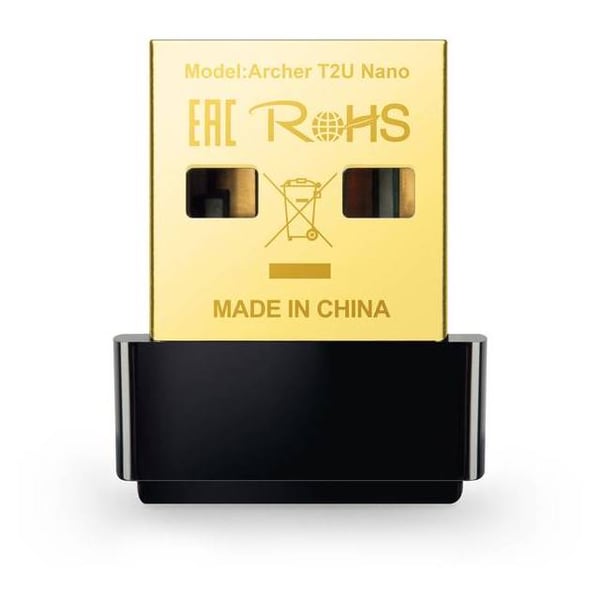 Roll over image to zoom in
Click to expand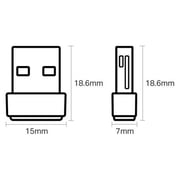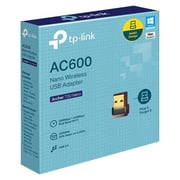 TPLink
Tplink Arche T2U Nano Wireless USB Adapter
FREE Shipping over OMR 20 from seller
Delivery 2 - 4 Days
Secure Transaction
Key Information
Type:

Wireless USB Adapter

It is the rate of radio signal to send and receive communication signal. Common frequencies are 2.4 Ghz and 5 Ghz.5GHz provides faster data rates at a shorter distance. 2.4GHz offers coverage for longer distances, but may perform at slower speeds

Frequency band:

2.4 GHz, 5 GHz

Color:

Black

Input/Output Terminals:

USB ports
Details
TP-LINK WL-USB Archer T2U Nano AC600-USB Controller-WLAN
High-speed dual-band WLAN adapter for a faster connection
The Archer T2U Nano receives WLAN signals on two separate bands. Thanks to the 256 QAM-technology is the data rate to 2.4 GHz of 150 Mbit/s to 200 Mbit/s increases, so that the performance by 33%. With 433 Mbit/s on 5 GHz, the archer T2U nano as ideal for bandwidth-intensive applications such as HD video streaming or online gaming, while the WLAN speed of 200 Mbit/s on the 2.4 GHz the normal use.
Miniature design in the Nano format
The USB Adapter Archer T2U nano fits into any USB port and is therefore ideal for travelers, students and the adventurer, so easy for anyone that is in motion.
Compact design and wireless roaming – Best choice for mobile browsing
The public WLAN makes it difficult to find a stable network, which when motion is different reception strong.
Thanks to the WLAN roaming is the Archer T2U automatically the best uninterrupted network. With its compact design, the archer T2U without a doubt the best selection for mobile browsing.
Similar Recommended Products