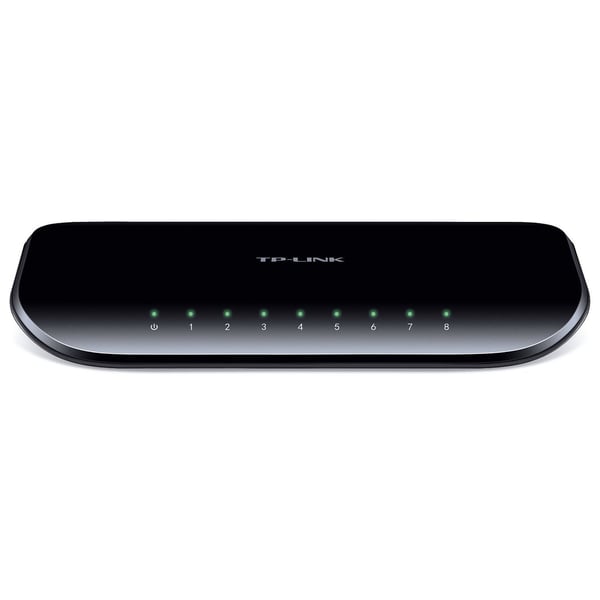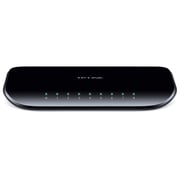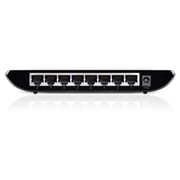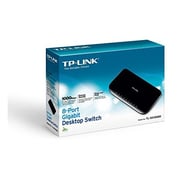 TPLink
TP-Link Ethernet Switch 8Port TLSG1008D
FREE Shipping over OMR 20 from seller
Delivery 24 Hrs Delivery * within Muscat
Secure Transaction
Key Information
Type:

Desktop Switch

Input/Output Terminals:

8 Gigabit Auto-Negotiation RJ45 ports

Interfaces:

Wired

Color:

Black
Details
The TP-Link 8-Port Gigabit desktop switch TL-SG1008D provides you an easy way to make the transition to Gigabit Ethernet. Increase the speed of your network server and backbone connections, or make Gigabit to the desktop a reality. Moreover, TL-SG1008D adopts lower power consumption design. With the innovative energy-efficient technology, the TL-SG1008D can save up to 80%* of the power consumption, making it an eco-friendly solution for your home or office network.
Gigabit Switch
Featured with 8 10/100/1000Mbps ports, TL-SG1008D greatlyexpands your network capacity, enabling instant large files transferring. So, powerusers in the home, office, workgroup, or creative production environment can nowmove large, bandwidth-intensive files faster. Transfer graphics, CGI, CAD, ormultimedia files across the network instantly.
Go Green With Your Ethernet
You now have the choice to go green when upgrading to agigabit network! This new generation TL-SG1008D 8-Port Gigabit Desktop Switchfeatures the latest innovative energy-efficient technologies that can greatlyexpand your network capacity with much less power. It automatically adjustspower consumption according to the link status and cable length to limit thecarbon footprint of your network.
Power down Idle Ports
When a computer or network equipment is off, thecorresponding port of a traditional switch will continue to consumeconsiderable amounts of power. The TL-SG1008D can automatically detect the linkstatus of each port and reduce the power consumption of ports that are idle,resulting in up to an 80% reduction in power use.
Power Budget According to Cable Length
Ideally, shorter cable would use less power because ofless power degradation over their length; this is not the case with mostdevices as they will use the same amount of power across the cable regardlessof the length.