Romoss SAILING4 Power BanK 10400mAh White
FREE Shipping over OMR 20 from seller
Key Information
Type:

Power Bank

Battery Capacity:

10400mAh

Compatible Products:

Smartphones, Tablets

Color:

White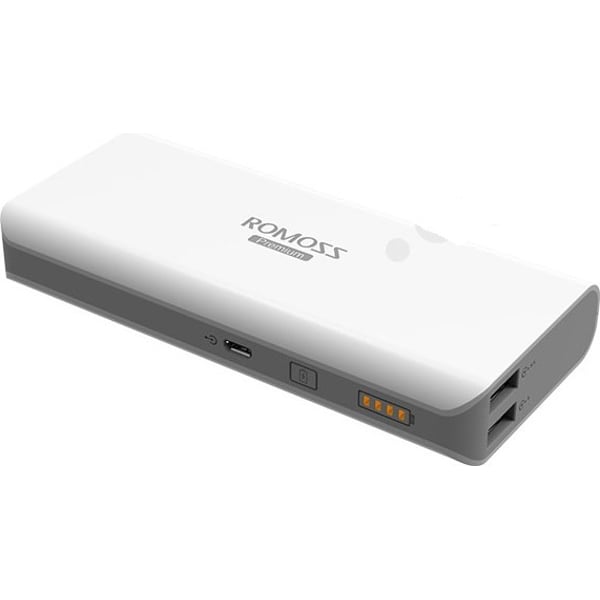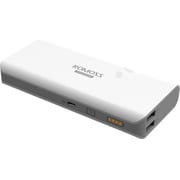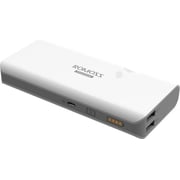 10400mAh
Powered by premium Li-ion cells from Samsung it offers a stable and secure long lasting power supply to your device. Charge iphone for 5 times.
Wide Compatibility Powerful charge
Built in the leading Fitcharge Technology, it is perfectly compatible with a variety of smartphones, MP3s , MP4s and other mobile devices.
Alloy Plastic Body (PC + ABS )
It features exclusive PC + ABS body with an elegant white finish that looks luxurious and feels great in your palm. The seamlessly splicing design and a scratch- resistant finish always keep it beautiful as new.
Unexpected Safeguard
Engineered with the multi-protective Circuit disign, it acts as a safeguard to give a better then ever protection for your mobile devices in all arround ways, reassuring you a satisfied and safe charging experience.
Power Guard Smart
It automatically turns off while its not in use for 60 seconds. Spare your concern about energy waste as a smart power guard.
Power on, Light Up
Four Built in LED indicator lights illuminate orange when charging or self -charging which indicates power levels. its an amazing function to prompt users that power bank should self charged when the last LED light is flickering
Dual – Output high charging efficiency
Charge 2 hungry devices at the same time with dual-output,experiencing the better then ever portability and charging efficiency
Fast charge, fully safeguarded
The Built in 2.1 A output enables to charge your device faster then before.it combines with protective system to let go of your safety worries while fast charging
Fast Self-Charge
With the built in 2.1 A input, it only takes around 7 hours to charge itself fully with icharger 12( 2.1 A power adapter )
Main
Brand
Romoss
Color
White
General
Type
Power Bank
Compatible Products
Smartphones, Tablets
Features
Features

High capacity up to 10400mAh
Dual-output, charge 2 mobile devices simultaneously
Perfectly charge mobilephones,Tablets, MP3s, MP4s etc
Built-in Samsung cells, longer battery life
Stunning sync charge u2022 Emergency LED torch
Fast Charge
2.1 A output, high charging efficiency

Additional Features

High capacity up to 10400mAh
Dual-output, charge 2 mobile devices simultaneously
Perfectly charge mobilephones,Tablets, MP3s, MP4s etc
Built-in Samsung cells, longer battery life
Stunning sync charge • Emergency LED torch
Fast Charge
2.1 A output, high charging efficiency
Physical
Dimensions
138 x 62 x 21.5 mm
Battery & Power
Battery Capacity
10400mAh
Battery Charge Time
7 hours ( using 2.1 adapter )
Temperature
20u00b0C ~ 60u00b0C
Input Voltage
DC 5V 2.1A MAX
Output Voltage
1 x 5V - 1 A / 1 x 5V - 2.1A
Voltage Input
DC 5V 2.1A MAX
Voltage Output
1 x 5V - 1 A / 1 x 5V - 2.1A
Operating Temperature
20°C ~ 60°C
000000000001025789