Ravpower PD 120W 4 Port Desktop Charger Uk Version Black
Roll over image to zoom in
Click to expand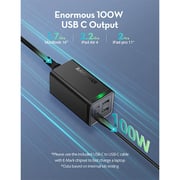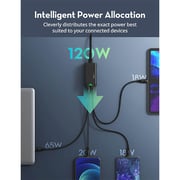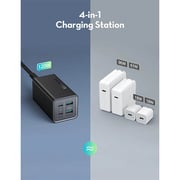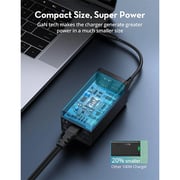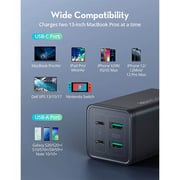 Riversong
Ravpower PD 120W 4 Port Desktop Charger Uk Version Black
FREE Shipping
Delivery 24 Hrs Delivery * within Muscat
Secure Transaction
Details
RAVPower Desktop Charger pumps out 100W of power to take your MacBook Pro 16" from 0 to 100% in just 1.7 hours, when only one device is connected to a USB-C port. With 2 USB-C PD ports and a 120W total output, you can recharge two 13-inch MacBook Pros at full speed simultaneously.
Huge Charging Capability
USB C charger provides an enormous 100W of charging power that's enough to fully charge a 16-inch MacBook Pro in just 1.7 hours

Simultaneous USB-C Charging
With 2 USB-C PD ports and a 120W total output (60W per USB-C port), this USB charger can charge two 13-inch MacBook Pros at a time

Intelligent Power Allocation
Cleverly distributes 120W of power to charge 4 devices at a time, ensuring all your connected devices get simultaneous high-speed charging

Compact Size, Incredible Power
GaN tech makes this charger 20% smaller but produces 20% more power than other 100W desktop chargers – without generating excess heat

Wide Compatibility
Desktop USB charging station provides fast charging to virtually all USB-C and USB-A powered devices, from iPhone to Samsung to USB-C laptops and more

Innovative GaN II Technology
With a 100% increase in operating frequency, an innovative design, and an upgraded circuit board structure, GaN II technology makes our latest charger smaller without sacrificing a drop of power

18W USB A Port
Provides enough power to charge all your compatible devices at the fastest possible speed.

Comprehensive Safety System
Keeps you and your devices reliably protected with advanced safeguards – overcharging, overheating, overvoltage and short circuit protection.

Great for Travel
Comfortably fits in your bag or suitcase to keep your laptop, tablet, and phone charged up while on a trip.
Similar Recommended Products