Promate Aluminum Multi Angle Origami Laptop Stand Black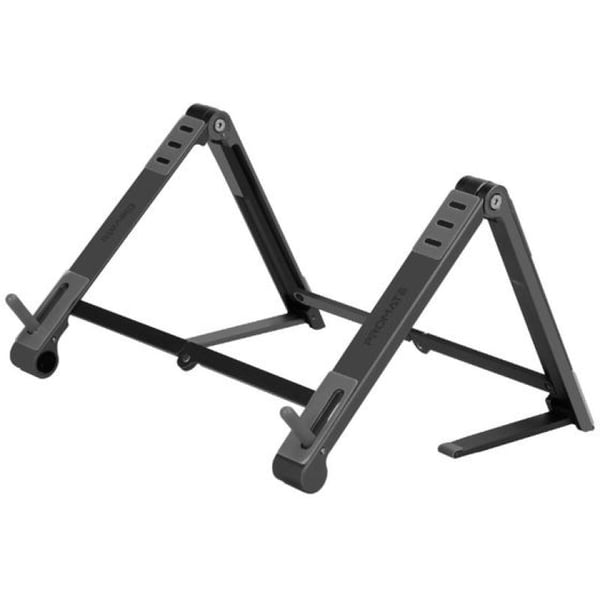 Roll over image to zoom in
Click to expand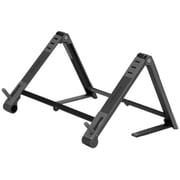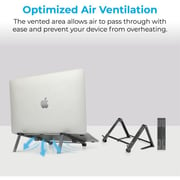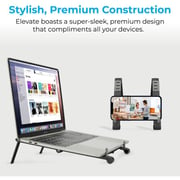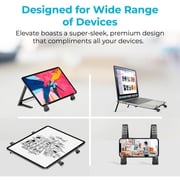 Promate
Promate Aluminum Multi Angle Origami Laptop Stand Black
FREE Shipping over OMR 20,000 from seller
Delivery 2 - 4 Days
Secure Transaction
Details
Elevate laptop stand will help to transform your laptop into a posture-perfect desktop workstation. This stand boasts a super-sleek, premium design that compliments all your devices. The multiple origami style foldable positions let you use this multifunction stand with a variety of Laptops, Tablets & Smartphones. this compact and foldable portable laptop stand is very suitable for computing on the go.
Comfortable Multi-Angle View:
The laptop holder elevates your notebook to a perfect eye level with its adjustable multi-angle functionality for comfortable working in home, office, and outdoor. Adjusting the operating angle as per your actual needs, Elevate laptop stand straightens your waist and makes you feel relaxed while even long hours of work.
Adjustable Height:
Targeting users of different heights, the laptop stand features an adjustable height that can be modified as per your work requirement. With the right height, it becomes easier and more convenient to interact with your smartphone, tablet, or laptop.
Strong and Reliable Aluminum Construction:
Proficiently created with aircraft-grade aluminum, our laptop stand is robust and resilient to withstand even heavy devices without fear of tipping over. The in-built holders provide gentle yet secure clamping of devices to keep them in place, whilst ensuring to never scratch your screen.
Perfect Grip with Anti-Slip Pads:
Featuring an anti-slip cushioning design, the laptop stand not only safeguard your devices but also protects the desk from any damage. The anti-skid silicone pads act as strong support and keep the devices holding at one place and preventing them from falling or easily sliding off.
Optimized Air Ventilation:
The Laptop stand features an open ventilated design to cool your laptop and prevent it from overheating. With ample space to breathe, your laptop will stay cooler and allow you to work for longer hours without any hassle.
Origami Styled Stand for Tablet and Phone
The stand is engineered using the traditional Japanese art form 'origami' which can be stretched and unfolded like a piece of paper. It can be shaped according to your desired needs and perfectly holds your tablets and even smartphones.
Designed with Perfect Ergonomics:
The Laptop riser is skillfully created with an Ergonomic layout with ideal height and multi-angle support which eventually gives you a comfortable posture and prevents neck and back pain. Placing it in the right position reduces eye strain and creates a workstation without any clutter on the desk.
Case Friendly:
You do not need to take off your laptop/tablet/phone from its case to use this efficient stand irrespective of the size or weight. It will work perfectly well with the respective case, saving valuable time and without any hassle.
Completely Foldable Design:
Promate Elevate is lightweight, ultra-compact, and completely foldable like origami into a small size ensuring to be easily stored flat in suitcases, backpacks, and even handbags and use it whenever needed.
Extensively Compatible:
This laptop stand is widely compatible with a variety of Laptops, Tablets & Smartphones. It supports devices including Apple MacBook 12 / 13, MacBook Air 13, MacBook Pro 13/16, Dell XPS 9700, Dell Inspiron 3593, Huawei MateBook D 14, iPad, iPad Pro, iPad Mini, iPad Air, Galaxy Tab S5e S4 10.5, Tab A 7.0, Tab E 9.6, Tab S3 S2 9.7 inch, Huawei MediaPad M5 8, MediaPad M3 8.4, Sony Xperia Z3 Tablet Compact, Asus ZenPad 3S 10, Smartphones like iPhone 12/12 mini/12 Pro/12 Pro Max 11 Pro, Samsung Galaxy S21 S20 S10 and other compatible devices
Similar Recommended Products