🌙 Marhaba Ramadan 🎁 Shop and Stand a chance to WIN prizes worth 24000 OMR. *T&Cs Apply
Karcher Multipurpose Box Mobile Outdoor Cleaner Yellow OC3 Plus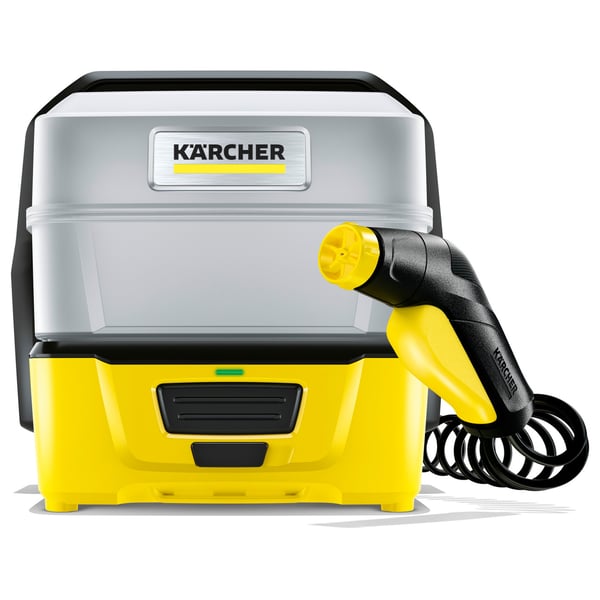 Roll over image to zoom in
Click to expand
Karcher
Karcher Multipurpose Box Mobile Outdoor Cleaner Yellow OC3 Plus
+ OMR 1.500 Shipping
Delivery 24 Hrs Delivery * within Muscat
Secure Transaction
Key Information
Power Supply:

12 Volts

Voltage:

12 Volts

Color:

Yellow

Type:

Handheld Vacuum Cleaner
Details
The device is no bigger than a bike basket – the OC 3 Plus can easily be stowed in the boot of a car. At home, it can be stored on any shelf. The large handle makes it easy to carry the device.
Kärcher is extending its range of versatile low-pressure cleaners. The new, battery-powered OC 3 Plus features a 7-litre water tank – instead of four litres in the OC 3. This means that cleaning can be carried out longer and more thoroughly than before without a power and water connection. The water reservoir is sufficient to clean two to three bikes. This is practical when out and about so that a pram or hiking boots will not dirty the car after a tour. However, the device can be used just as well while on holiday in a caravan or outside the front door before dirt is carried into the house.
The water pressure of 5 bar is designed for quick hosing down of light soiling. Even sensitive surfaces can therefore be cleaned effectively. When fully charged, the battery allows non-stop operation for approximately 15 minutes. However, since short spray bursts are used more frequently in practice, the actual work time may be longer. The lithium-ion technology ensures that the battery has very low self-discharge even when stored for a longer period of time and that it can be recharged at any time.
The hand piece with the replaceable flat jet nozzle and the 2.8-metre-long spiral hose are stowed in a space-saving manner under the detachable tank in a robust, shock-resistant plastic housing. A suction hose enabling the use of water from alternative sources is available as an optional accessory. Three accessory boxes ("Bike", "Adventure" and "Pet") extend the fields of application and contain everything required for the particular purpose. The boxes can be securely attached and transported underneath the device.
Another new product is the OC 3 Plus Car which is fitted with a 12 volt motor vehicle adapter. The adapter can be used to operate (but not charge) the device. The 2-metre-long power cable has a large operating radius.
Similar Recommended Products