Roll over image to zoom in
Click to expand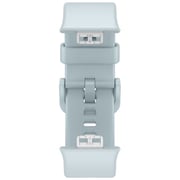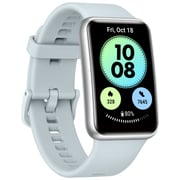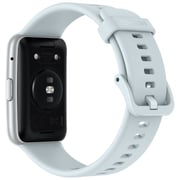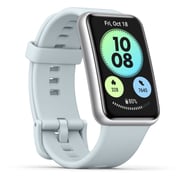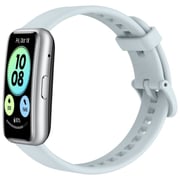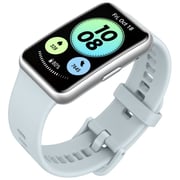 Huawei
Huawei Watch Fit Distilled Blue
Key Information
Color:

Blue

Display Type:

AMOLED

They are bluetooth capable watches used to answer phone calls , receive alerts, read email and text messages, get a weather report, listen to music, dictate email or text messages or ask a digital assistant a question

Type:

Smart Watch

The total number of pixels on the screen, more pixels results in a sharper display

Resolution:

HD (456 x 280)

Bluetooth Version:

Bluetooth 5.0

Capable of upgrading to future app versions and can be connected to related products

Compatible Products:

Android 6.0 or later | iOS 9.0 or later

Battery life:

10 Days
Details
AMOLED screen with a rectangular stunning 1.64 "and a resolution of 280 x 456 pixels, the HUAWEI, WATCH the FIT delivers new viewing experience that is broad and clear. Automatic brightness adjustment provides better viewing in sunlight. while the six Always-On dials let you express your emotions. Your personal style and mood each day.
Unique style refresh
Personalize the theme to match your everyday look with variety of watch faces, simple, smart or bright and trendy. All this is waiting in the Watch Face Store or to customize the photos from a smart phone, you can do it yourself.
Let you define your own life
You can customize the functions on the smart watch face to instantly select the cool features that interest you, such as the weather. heart rate step count battery life and more, giving you the freedom to choose and set Where you want to fly.
Create every style as you want.
The smart watch bezel design has a matte finish to match the colorful wristbands with softness. The HUAWEI WATCH FIT new brings a premium feel to it while remaining durable. The sophisticated design look is always trendy and fashionable.
Lighter design, longer battery life.
The new package of HUAWEI WATCH FIT new is incredibly thin and light. Has upgraded the battery performance to only 21 g making it the perfect all-day companion. with dual chipset architecture and power saving algorithm This watch can last for 10 days and with fast charging technology. The watch can help you through the day with just 5 minutes of charging.
97 exercise modes
HUAWEI WATCH FIT new provides accurate and real-time exercise metrics for 12 professional sports modes, including running, swimming, cycling and skipping rope, customizable exercise modes, 85 assist modes. Let you unleash your potential Whether you're doing yoga or working hard. The watch also tracks real-time heart rate, calories and duration of exercise.
Find the right workout cadence with sensors.
With built-in GPS sensor, 5ATM10, AI heart rate algorithm and innovative sensors, HUAWEI WATCH FIT new is built for all your workouts such as swimming, running, cycling, etc. This watch helps you train better by giving you a real – time indicator. Scientific Training Evaluation and professional advice
Exercise partner with health information monitoring system
HUAWEI WATCH FIT can detect from the beginning of exercise. Memorize each type of exercise. with notification and instant follow-up Whether you're running or swimming, you can check the metrics you need. professional analysis and scientific advice through HUAWEI Health.
24-hour heart rate monitoring
With HUAWEI TruSeen 4.0 heart rate monitoring technology, this smart watch can accurately monitor your heart rate in real time during the day. or even while you sleep and detect in a timely if your heart rate exceeds the normal range or not. and send notifications to give you all-day health protection.
Day SpO2 Monitoring
Blood oxygen saturation is an important physiological indicator of respiratory function and metabolic circulation. Support continuous blood oxygen monitoring, HUAWEI WATCH FIT new automatically sends reminders to help you adjust your status in time when you stay up late or exercise your brain too much.
Release your stress
HUAWEI TruRelax technology and all-day stress tracking algorithm can effectively monitor your stress level to see if you are feeling stressed. Try to follow recommended breathing practices to relieve your stress when you stressed
It's more than a lifestyle
Now you can better control your music playback Take a picture with the remote shutter or instantly find your phone with this smart watch. You can also use other features such as weather, alarm, timer, stopwatch, flashlight.
Similar Recommended Products