Huawei PNX-B19 GT4 Smartwatch Phoinix Grey With Stainless Steel Strap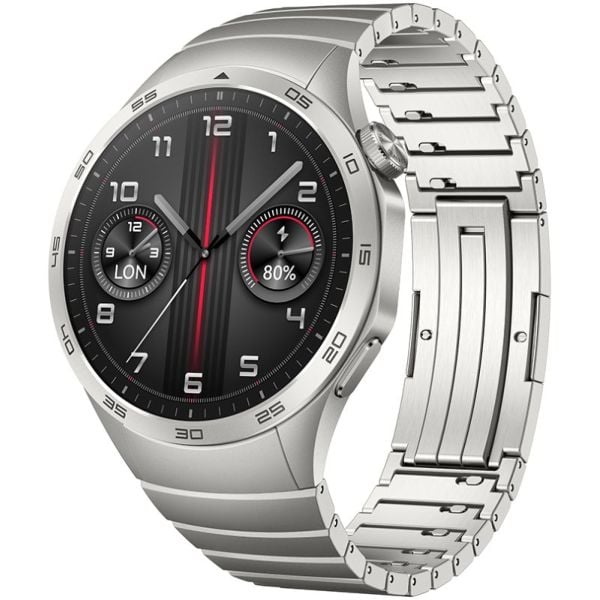 Roll over image to zoom in
Click to expand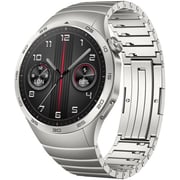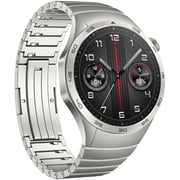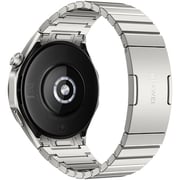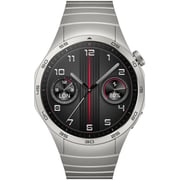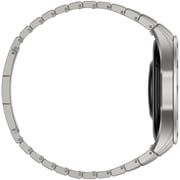 Huawei
Huawei PNX-B19 GT4 Smartwatch Phoinix Grey With Stainless Steel Strap
FREE Shipping over OMR 20,000 from seller
Delivery 2 - 4 Days
Secure Transaction
Key Information
Color:

Grey

They are bluetooth capable watches used to answer phone calls , receive alerts, read email and text messages, get a weather report, listen to music, dictate email or text messages or ask a digital assistant a question

Type:

Smartwatch

Display Type:

AMOLED

The total number of pixels on the screen, more pixels results in a sharper display

Resolution:

466 x 466 Pixels PPI 326

Bluetooth Version:

Bluetooth 5.2

Battery life:

14 Days
Details
HUAWEI WATCH PA ("the watch") is water-resistant to a depth of 50 meters, and can last 14 days (Phoinix)/7 days (Aurora). It features a variety of fitness, health, and lifestyle features, and therefore is suitable for both daily use and professional workouts.
Unique octagonal design
Rounded to perfection, but living on the edge – that's one watch face you can't do without!

Opulence in your orbit
A stunning ring bezel shimmers and shines away, night and day.

Slimmed Down, Spaced Out
With its airy-light form and 13% higher screen-to-body ratio, bordered by a thin bezel, this watch gives you the fit you crave and a view to savour.

Dazzling Watch Faces to Choose from
With 25,000+ exquisite watch faces3 to browse, including Blooming watch face, which flowers as your daily activity data grows, and Always On Display watch faces,4 an idle moment is all you need to experience something new.

Custom Watch Faces
Create watch faces of your own, with tailored functions, styles, and colour schemes, to showcase your creative side5 — or custom widgets, to switch seamlessly between apps.

Complete All 3 Rings
Set daily goals for Activity Rings 2.0, with Move, Exercise, and Stand measurements, to get a move on your health – minute-by-minute. When you achieve the three-ring goal, you will receive a medal reward.

Can-Do Calorie Management
The new Stay Fit app backed by HUAWEI TruSeen 5.5+ tech helps you keep track of how many calories you're consuming at a glance, with high-level metrics like real-time calorie intake, active calories, resting calories, and calorie deficit.

100+ Workout Modes
This watch is sure to track the activity you love – with new modes like football, basketball, and padel, in addition to the myriad of walking, running, cycling, and swimming workouts. Hit the court or hunker down, with a vast array of real time data, to make the most out of every movement. You can also enjoy the convenience of voice guidance when running.

Workout Heart Rate Monitoring
Don't miss a beat, with the new and improved HUAWEI TruSeen 5.5+ heart rate, and get timely voice or vibration reminders whenever your heart rate strays from its target zone. The heart rate monitor continues to work well, even in cold-weather environments.

Enhanced Route Tracking
A smart satellite antenna array boosts the accuracy of HUAWEI WATCH GT 4 46 mm's GNSS signals by 30%, to keep you on track in avenues, parks or residential units. And with a smart fusion positioning algorithm, the watch gets increasingly accurate the more times you run.

Vital Sign Tracker
The watch's HUAWEI TruSeen 5.5+ system tracks heart rate, SpO2, sleep, and stress with pinpoint precision, keeping you in the know all the time.

Sleep Tight Every Night
Hit the hay with peace of mind, thanks to the HUAWEI TruSleep 3.0 monitoring system, which tracks your slumber, and detects abnormal breathing during sleep.

Special Attention to Women's Health
Get estimated period, ovulation, and fertile times at just a glance, which are based on high-level physiological data and a deep learning algorithm.

Heart Rate Monitoring
HUAWEI TruSeen 5.5+ technology enhances the accuracy of heart rate readings during strenuous workouts, by harnessing eight photoelectric sensors, two groups of light sources, a better AI algorithm, and curved glass lens.

SpO2 Tracking
TruSeen's SpO2 measurements show that when it comes to this watch, caring runs in the blood!

Stress Management
An ever-ready stress monitor is on hand to track and manage any daily trials and tribulations, with calming breath exercises to help ease your mind.

Answer Bluetooth Calls Directly on Your Watch
Answer and reject incoming calls, send out custom quick replies and view call logs to make your life easier.

Listen Without Limits
HUAWEI WATCH GT 4 supports independent music playback. Set playlists in the phone app and match them to specific workouts – to get in your groove even when your phone isn't on hand!

Take Control of Your Life
Manage your schedule and track your to-dos from the watch's Calendar app, to stay productive, proactive and professional.

Communicate Conveniently As Can Be
View SMS messages on your watch and choose to reply with a preset quick text message or emoji. Experience seamless communication with just a flick of your wrist.

Power Up in a Pinch
HUAWEI WATCH GT 4 46 mm lasts a staggering 14 days on a full charge, and HUAWEI WATCH GT 4 41 mm lasts 7 days

Broadly Compatible
HUAWEI WATCH GT 4 is compatible with both iOS and Android phones, for greater ease of use.

Wireless Charging and Reverse Charging
The watch supports wireless charging and can work for two weeks for light use after being fully charged. You can use a Huawei phone to reversely charge it when no charger is available.

Bluetooth Calling
The watch can be connected to phones over Bluetooth for calls. It can save the contact information of your families, friends, and colleagues for your convenience.

Watch Face Store
There are nearly 10,000 watch faces, which will be more in the future, in the watch face store in the Huawei Health app for you to purchase and download, fulfilling every taste, occasion, and style.

HarmonyOS
The HUAWEI WATCH GT Series is designed for professional sports and health management. The watch features a long battery life, runs HarmonyOS, comes with a lightweight app store, and offers a distributed smart travel and convenient lifestyle in all scenarios.

Fitness
The fresh-new Activity rings with updated medals, intelligent goal recommendations, intelligent exercise recommendations, and animation incentives after goal completion. Diverse workout modes (such as running/swimming, track run, and custom workout), GPS positioning, voice broadcast, route import and export, and more. Science-based fitness guidance (including the AI running plan, custom courses, interval training, automatic workout pause/resume, and running ability evaluation system)

Health
Weight loss and body shaping. Health trends. Cycle calendar. Step counting, activity reminders, heart rate detection, stress monitoring, breathing exercises, sleep monitoring, irregular heart rate alerts, SpO2, sleep apnea, healthy living, skin temperature measurement, etc

Others
Switchable multi-tasking (navigation during cycling, timing during workout, replying to messages during running, viewing the weather when answering a call, etc). Calendar app automatically syncing events from your phone. Bluetooth calling, message viewing & notification, replying to messages (text reply, emoticon reply, and quick reply, not supported on iPhones), voice assistant (not supported on iPhones), and voice call notification (only message viewing supported on iPhones). Weather, stopwatch, timer (customizable), alarm (customizable, ringtone setting, etc), flashlight (color mode), Remote shutter, Super Link, Find phone, lockscreen PIN, synced navigation reminders (GMap), AppGallery, and WeChat (Android phones only). Music playback, offline music, music control, HUAWEI Music song syncing (Android phones only), audio control center, Spotify, etc. Customizable pre-installed watch faces. You can customize the color, style, cards, and features based on the watch face design. Watch face store, custom cards, Gallery watch face, OneHop watch face (only on Huawei phones), AOD watch face, and HUAWEI Assistant. Transportation cards, bank cards, access cards, super access cards (only when copied through your phone), and Europe Curve (TBD)

More Accurate Workout Data
Thanks to the improvements made to heart rate measurement hardware and GPS hardware as well as optimizations to algorithms, the accuracy of heart rate measurements and GPS positioning for professional workouts has increased greatly. For example, the accuracy of heart rate measurements has reached 5 bpm during workouts such as interval running and marathon events, the accurate route positioning is able to locate a single running track, and the real-time pace accuracy and distance accuracy have reached industry-leading levels.

Workout Modes
The watch supports GNSS positioning and provides multiple professional workout modes, such as running, cycling, swimming, triathlon, mountain hiking, and trail running. A variety of workout modes are available for your customization. You can add your desired workout modes to or remove unwanted ones from the list of frequently used modes.

Professional Running Data
The watch can record a variety of professional workout data, such as duration, distance covered, calories burnt, pace, stride, heart rate zone, aerobic training stress, anaerobic training stress, VO2Max, and recovery degree, to make exercising more scientific. Huawei's science-based fitness system provides evaluations and suggestions for entry-level runners.

Multiple Heart Rate Zones
The maximum heart rate varies depending on the workout mode. Maximum heart rates can be set using different labels to accurately calculate calories burnt in a certain workout mode.

Heart Rate Zones and Pace Zones
Five levels of workout intensity are defined using the heart rate zones and pace zones, corresponding to five states of energy consumption.

Physical Status
After Outdoor run mode is enabled for a period of time, the watch calculates and informs you of your current physical status, so that you can adjust your workout strategy in a timely manner to avoid injuries.

Heart Rate Recovery
It's the difference between your peak heart rate during exercise and your heart rate soon after you stop. The speed and degree of heart rate recovery after exercise can be used to measure adaptability to a training load and physical fitness.

Resting Heart Rate
The resting heart rate refers to the stable heart rate measured when a person is awake and relaxed. Long-term regular exercise can enhance heart functions and lower the resting heart rate.

Huawei's Brand-New Running Capability Evaluation System
Running ability index (RAI) uses running records to evaluate the runner's running performance, quantify their capability, and determine their level. For example, after the runner completes a race or training session, the index helps rank (grade) them among all runners, so that they can get a better understanding of how well they are doing and whether they are making progress. Real-time RAI represents your current status, which is the level of running capability after you've finished running that day (so it will fluctuate). Recent RAI is calculated based on your recent real-time RAIs and evaluates your recent running status. This brand-new running capability evaluation system uses an upgrade algorithm to calculate the RAI based on the relationship between the heart rate and pace after each training session, even if the runner does not push themselves to their limit. This keeps you informed of your running status.

Training Load
Training load equals training time multiplied by training intensity, and is an accurate reflection of the training amount and the impact of training on the body.

VO2Max
VO2Max indicates the highest level of oxygen uptake and utilization per kilogram of body weight per time unit during a long period of intense exercise. It reflects the body's ability to intake, transport, and utilize oxygen, and is therefore an important indicator for assessing the ability to do aerobic exercise.

Training Performance
Aerobic training stress: This indicates the benefits of aerobic exercise for the body during a single workout. Long-term aerobic training can effectively improve this index. Anaerobic training stress: This indicates the benefits of high-intensity training for the body during a single workout. High-intensity interval training can effectively improve this index.

AI Running Plan
The watch supports more personalized, user-friendly, scientific, and professional smart running plans customized based on your training goals and times. Such a training plan automatically adjusts the training content and the difficulty level of subsequent courses based on your completion status, training status, and feedback, and provides summaries to help you reach your goals more quickly, on a weekly basis.

Personalized training plan
Differentiated training plans are developed based on information such as runners' personal information, running goals, and running capabilities, allowing personalized and more effective training.

Intelligent adjustment of training content
Based on professional theories such as Daniels' Running Formula, the watch provides suitable guidance on running methods, workout intensity, and workout load. Plans can be managed through the phone app and then pushed to the watch for easier use. The watch reminds you of your heart rate zone and pace zone in real time, providing precise guidance and preventing you from exercising incorrectly.

Data-based guidance
Based on professional theories such as Daniels' Running Formula, the watch provides suitable guidance on running methods, workout intensity, and workout load. Plans can be managed through the phone app and then pushed to the watch for easier use. The watch reminds you of your heart rate zone and pace zone in real time, providing precise guidance and preventing you from exercising incorrectly.

Real-time guidance from the watch
The training content is pushed to the watch. When your motion switch and intensity exceed a certain range, you'll receive voice and card notifications.

Gradual capability improvement
The principle of scientific training is followed to gradually increase the training volume and improve training.

Periodic training
Based on the classic running training system, running involves several phases, including the preliminary, improvement, consolidation, and reduction phases, which are effective at helping improve the performance of runners.

Strength training for runners
Training plans may include suitable strength training to lay a foundation for improving performance.

Daily running plans for ordinary users
Daily scientific plans are developed for ordinary users to maintain and improve their physical fitness.

Advanced plans for runners
Advanced plans are developed to better prepare runners for a race, by helping them controlling their training pace (such as arranging pre-race training reduction) on the basis of targeted training.

Auto-detect Workouts
The watch identifies and reminds you to start the workout mode corresponding to your current workout status. You can either ignore the reminder or touch it to enter the corresponding workout mode. Currently, this feature is only available for Indoor/Outdoor run, Indoor/Outdoor walk, Elliptical, and Rower.

Workout Route Sharing
You can import other users' workout routes and export yours to share with others via the Huawei health app

Route Back
If you get lost in an outdoor adventure, all you need to do is enable the route back and real-time voice guidance features, and then you'll be guided back. When you get lost in environments such as deserts and hills, switch to straight line navigation to quickly return to where you came from. The watch calculates the navigation distance and displays the remaining distance and estimated arrival time.

Activity Rings
The accelerometer and gyroscope are used to identify and monitor your diversified exercise status throughout the day. The number of steps, calories burnt, activity intensity, and number of standing times can be collected and displayed. It is encouraged to complete the activity rings on a daily basis by setting reasonable goals and smart reminders as well as incentives, thus cultivating exercising habits. (This will also help build product loyalty.)

Heart Rate Data Broadcast
After this feature is enabled, the watch will continuously measure your heart rate and automatically sync your heart rate with connected devices or third-party apps.

External Heart Rate Bands
The watch can be connected to a standard heart rate band to obtain and display your heart rate data in real time during workouts, providing more choices for health and fitness enthusiasts.

Data Interconnection with Third-Party Apps
It is planned that data interconnection with third-party apps will be supported. For details, see the sales page.

2.3.1 Smart Heart Rate Monitoring
Huawei's smart heart rate monitoring enables you to receive timely alerts when your heart rate is too low or too high. It supports nighttime sleep monitoring without disturbing you, and monitors your heart rate 24 hours a day to improve your health and vitality. The new-generation heart rate monitoring technology sets up new standards for optical heart rate measurement with four major breakthroughs

Twice as many receptor lights, with no loss of light signals
Signal interference is reduced and accuracy is improved when your wrists are moving.

Upgraded AI algorithm to restore the actual light signals
The multi-channel signal enhancement algorithm and deep AI learning noise reduction algorithm are used to filter out noisy signals and restore the actual optical path to the maximum extent.

Refined curved rear cover
The ergonomically designed curved rear cover fits the wrist bone well, feels comfortable and won't shake around, picking up light effectively and thereby improving the heart rate signal quality.

Micro-nano optical films to reduce signal interference at the superficial layer
The PDs and LED use Fresnel films which effectively reduce light reflection, so that the light source directly enters the dermis, reducing signal interference at the superficial layer.

Automatic SpO2 Measurements
Oxygen saturation (SpO2) is the proportion of oxygen-saturated hemoglobin relative to total hemoglobin in the blood. Low SpO2 levels over a long time can cause damage to the brain, heart, and other organs. The watch supports automatic SpO2 level detection and periodically monitor changes in your SpO2 level throughout the day. There is a dedicated card for you to view the historical SpO2 data and keep abreast of your physical status.

HUAWEI TruSleep
TruSleep constantly monitors your sleep quality while you are asleep, analyzes your breathing quality during asleep, and uses big data analytics to rate your sleep quality. With the help of Huawei's AI technology, the watch can accurately identify six types of common sleep issues and provide more than 200 suggestions for improving your sleep and personalized sleep services (such as meditation, sleep after exercising, and nap) to help you improve sleep quality.

Stress Monitoring
Certain stress can help us stay motivated, but too much of it will have an impact on our health. By analyzing heart rate variability, HUAWEI TruRelax is able to monitor stress in real time around the clock, with breathing exercises to help you release stress and stay relaxed in day-to-day life.

Health Trends
This feature helps automatically predict health trends based on the data from daily exercise, and notifies users.

Weight Loss and Body Shaping
You can set your personalized training plans. Set a weight goal to get meal and nutrition guidance based on data such as weight changes, average calorie deficit, diet logs, and using features such as calorie counting.

Cycle Calendar
The next period can be intelligently predicted based on data from previous periods, and give you a clear monthly display.

Healthy Living Model
HUAWEI Healthy Living provides multi-dimensional daily goals and health suggestions. Based on the scientific health graph, it generates health tasks every day, reminds users to achieve personalized health goals and develop healthy habits, and makes fitness a key part of leading a happy life through the achievement system and encouragement of positive behavior.

Calendar
The watches support the Calendar app and will sync calendar information from your phone.

Voice Assistant
Let your watch assist you when you're on the go! Wake up the voice assistant by pressing and holding the Down button, and start interacting with your watch using voice commands.

Access cards
A HUAWEI wearable device can be used as an access card after the information of a physical access card has been copied to the chip of the wearable device. The wearable device can simulate unencrypted 13.56 MHz access cards that are currently on the market. For security reasons, bank cards, stored-value cards, and transportation cards can't be emulated. Even if the emulation is successful, these cards can't be used as bank cards or transportation cards.

Bank cards
After you link a bank card to the watch using the HUAWEI Health app, you will be able to make payments using the watch. You can make payments offline without having to connect to your phone or the network, making purchasing easy and convenient.

Transportation cards
The watch supports NFC payments. You can activate a transportation card for the watch in the Huawei Health app, and then you'll be able to make payments easily and quickly by tapping your watch against the payment terminal.

HUAWEI Music
When the watch is paired with your phone, you can use the watch to control music playback on your phone. Whether you want to switch songs or adjust the volume, you can do it all on the watch. You can also sync music from your phone to your watch and store up to about 500 MP3 songs on your watch, as well as connect your watch to Bluetooth earphones or use speaker mode to play songs. With these features, you can enjoy offline music when it is not convenient for you to carry your phone, for example while on the go, or while exercising.

Remote Shutter
Once you have connected your watch to your phone, touch the Remote shutter app on the watch to enable the phone's camera. Then tap on the photo-taking icon on your watch to use your phone's camera to take photos.

Lunar Phases and Tidal Changes
The Weather app can tell you about the lunar phase, tidal changes, and the sunrise/sunset times. Astrological and lunar phases can all appear on your watch face when you raise your wrist. Appreciate the vast beauty of nature and explore the great outdoors by integrating it on your wrist. The watch face can display the sunrise and sunset time for each day and display eight types of lunar phases, such as the new moon, full moon, and first quarter.

Bad Weather Warnings
The watch has a built-in barometer that can monitor the current barometric pressure in real time. If the pressure changes sharply, you will be notified in a timely manner before the bad weather arrives.

Barometer and Compass
The watch provides a barometer and a compass for you to be able to enjoy the great outdoors even more.
Similar Recommended Products