Hoover Washer 8 kg & 5 kg dryer WDXOC585C
Key Information
Type:

Front Load Washer Dryer

They are built for efficiency.Water consumption is less. It has washing and upto 70% drying capability

Capacity:

8 kg / 5 kg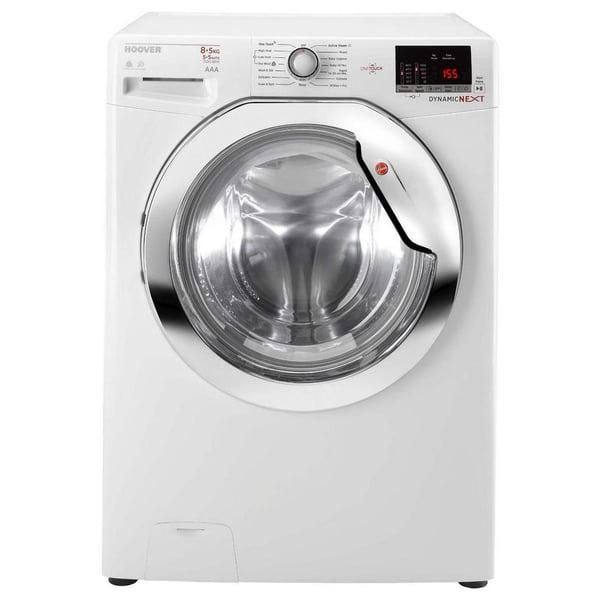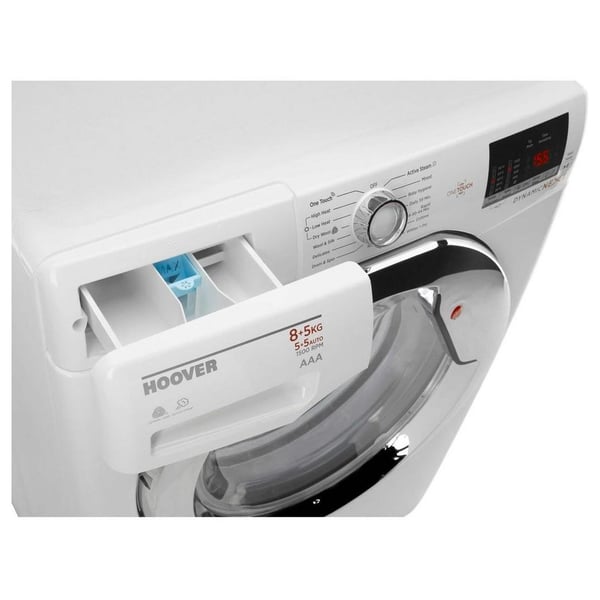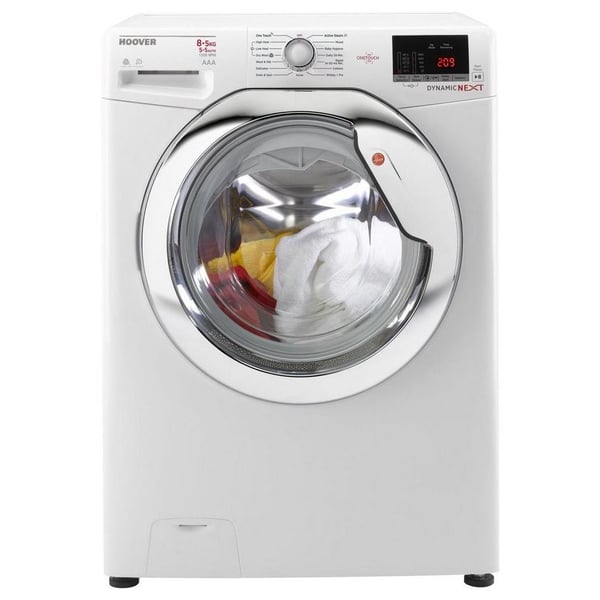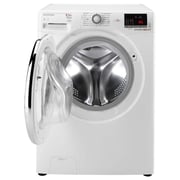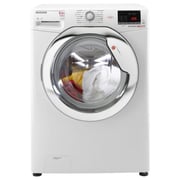 The Hoover WDXOC585C offers all-in-one cleaning for your laundry, with both 8 kg washer and 5 kg dryer functions. This freestanding washer dryer is exclusive to Euronics and Agent stores, and comes in a clean white finish to suit any home.
Packed With Intelligent Features, The Wdxoc585c Offers Optimum Performance When Handling Your Laundry. The Handy 'Kg Mode' Uses Drum Sensors To Weigh Your Laundry For The First Four Minutes Of Each Cycle – Water And Energy Usage Are Then Tailored To The Load'S Size, Preventing Waste And Saving You Money. Plus, The Dryer Uses Sensors To Stop Your Load As Soon As It'S Dry, Preventing Heat Damage To Your Clothes.
An 'Intelligent Wash System' Also Features On This 1500 Spin Washer Dryer.
Throughout The Cycle, This System Monitors And Adjusts The Wash Process To Keep It At Peak Performance. It Ensures That:
Temperatures Are Kept Constant For The Duration Of The Wash For Better Cleaning
Additional Water Is Removed During The Spin Process To Dry Clothes Faster
Drum Speed Distributes Laundry Throughout The Drum To Reduce Creasing
Detergent Is Directed To The Centre Of The Drum To Prevent Waste
Featuring A Re-Designed Drum To Improve Water Pressure, The '3d Dynamic Wash System' Is Fitted With Curved Paddles And A Raised Dome. These Improve Washing By Helping To Move Clothes Around The Drum.
All Washing Machines And Washer Dryers Are Rated A-G In Terms Of Their Energy Efficiency, Wash And Spin Drying Performance. Hoover'S Wdxoc585c Meets The Strict Set Of Standards Needed For An Aaa Rating, Giving Great Performance In All Three Of These Areas.
Limitless Programme Potential
A Selection Of 15 Pre-Installed Cleaning Programmes Can Be Found On The Machine. These Give You The Range Of Washing Options You Need To Get Through A Range Of Fabrics And Loads. Programmes Include:
Wash & Dry 59 Minute
Rapid 14 Minute Wash
Rapid 30 Minute Wash
Rapid 44 Minute Wash
Drain + Spin
Hand Wash
Shirts 30°C
While The Pre-Installed Programmes Have Plenty Of Uses, They Only Scratch The Surface Of What The Wdxoc585c Can Do. Use The Free 'One Touch' App On Your Smartphone To Connect It To The Washer Dryer And Access A Huge Range Of New Downloadable Programmes. This App Is Perfect For Finding Very Specific Cleaning Programmes, Such As Backpacks' Or 'Duvet', As You Need Them. Better Yet, You Can Create Your Own Custom Wash Programmes, Giving You All The Flexibility You Could Need.
You Can Also View Data From Previous Washes Using The App. Most Used Programmes, Average Cycle Length, Number Of Uses And Hours Of Operation Are All Tracked And Ready To View At The Press Of A Button. With Your Connected Phone You Can Set Washes To Start Or Stop At A Chosen Time – Come Home To Freshly Cleaned Laundry Every Time With One Touch And The Hoover Wdxoc585c.
General
Built In / Free Standing
Free Standing
Type
Front Load Washer Dryer
Loading Type
Front Load
Capacity
8 kg / 5 kg
Spin Speed
1500 rpm
Power Supply
220-240 Volts
Frequency
50-Hz
Dimensions
Dimensions (H x W x D)
850 x 600 x 600 mm
Features
Features
Intelligent Wash System - ensures an optimum clean | One Touch Technology - connect your dryer to your phone | 3D Wash System - for quick and efficient performance | Sensor Drying Programmes - prevents over-drying
Others
Country of Origin
China
Weight
Weight
70 KILOGRAM
000000000001179095