Dlink COVR2202 AC2200 Tri-Band Whole Home Wi-Fi System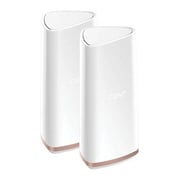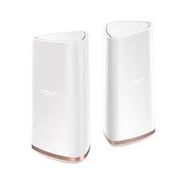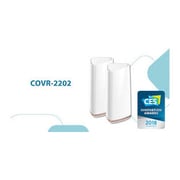 Dlink
Dlink COVR2202 AC2200 Tri-Band Whole Home Wi-Fi System
FREE Shipping
Delivery 24 Hrs Delivery * within Muscat
Secure Transaction
Key Information
Type:

Home Wi Fi System

It is the rate of radio signal to send and receive communication signal. Common frequencies are 2.4 Ghz and 5 Ghz.5GHz provides faster data rates at a shorter distance. 2.4GHz offers coverage for longer distances, but may perform at slower speeds

Frequency band:
2.4 GHz
5 GHz

You can connect multiple devices using wired ethernet cable in a local area network

Ethernet:

RJ45
Details
D-Link COVR-2202 Tri-Band Whole Home Wi-Fi System
Powerful Tri-Band Mesh Wi-Fi
Introducing COVR-2202, the powerful mesh solution that gives you perfect Wi-Fi coverage in every corner of your home
Tri Band Whole Home Wi-Fi System COVR-2202
AC2200 Tri-Band

Wi-fi with Smart

Backhaul

Parental Controls
Smart Steering
Expandable

Network

Smart Roaming
Works with

your existing router

or gateway

Extreme

Performance
With ultra high-speed AC2200 Tri-Band Wi-Fi and 11ac Wave 2 with MU-MIMO, you get more power for faster downloads, Lag-Free 4K streaming, and truly seamless networking.
Perfect for bandwidth-hungry homes.
Traditional Wi-Fi Covr with MU-MIMO
Like having multiple routers in your home, Multi-User
MIMO (MU-MIMO) sends data to multiple devices
simultaneously to increase speed and efficiency. Your
laptop, tablet, media player and game console can all
receive data at the same time, with no need to wait in
turn. You get more out of your home Wi-Fi network
than ever before.
COVR-2202's two units come equipped with high-power amplifiers covering up to 6,000 sq. ft with ultra high-speed Wi-Fi. And with six powerful antennas and MU-MIMO technology, you can finally bury those annoying Wi-Fi dead zones.
Permanently.
With Covr, there's just one wireless network name (SSID) for your entire home, no matter where you are. You'll never have to remember usernames and passwords for different networks in your home ever again.
DROPPED CONNECTIONS?
Pick up the slack with Tri-Band Wi-Fi's dedicated 5GHz backhaul band. It frees up Wi-Fi capacity so you can enjoy more reliable connections even with multiple devices connected.
Dual-Band systems use the same single 5GHz band for communication with both your devices and for backhaul, meaning network speeds can be reduced by up to 50%.

The Covr Tri Band Whole Home Wi-Fi System has a third separate band just for backhaul, leaving the other two bands unrestricted for connecting to your devices.
MESH WI-FI. A WHOLE LOT BETTER.
COVR-2202's smart backhaul feature automatically optimizes the signal between the Covr Points, no matter where you place them around your home. Your whole home network performs better overall, with less headache. It's whole home Wi-Fi. A whole lot better.
GOODBYE WI-FI DISRUPTION
Hello One Seamless Network. With Smart Roaming, you can now move freely from room to room, and stay constantly connected to the strongest signal. No more disconnecting. No more reconnecting. Just pure Wi-Fi bliss.
EASE WI-FI BUFFERING

Wi-Fi slowing to a crawl? Smart Steering clears Wi-Fi congestion by automatically directing your devices to the optimal wireless band. Staying on the Wi-Fi superhighway has never been easier.
GROW YOUR WI-FI. PAINLESSLY.
Need more coverage? COVR-2202 grows with you. Just add extra Covr Points to expand your tri-band mesh Wi-Fi network wherever you need internet. Seamless Wi-Fi. Simply Scalable.
POWERFUL. AND FLEXIBLE.
Covr Tri Band Whole Home Wi-Fi System comes pre-paired and works straight out of the box, so you just need to plug in the Covr Points and get started. The best part? It's flexible enough to cover almost every housing type. From 1-storey apartments to entire mansions, and basements to back decks, Covr's got you covered.
SIMPLE SETUP. STEP-BY-STEP.
Getting set up is a breeze. The D-Link Wi-Fi app walks you through the process one step at a time, so you can get on the tri-band mesh Wi-Fi superhighway without any hiccups.