Laundry

/

Candy Front Load Washer 9 kg CSO496TWMB-19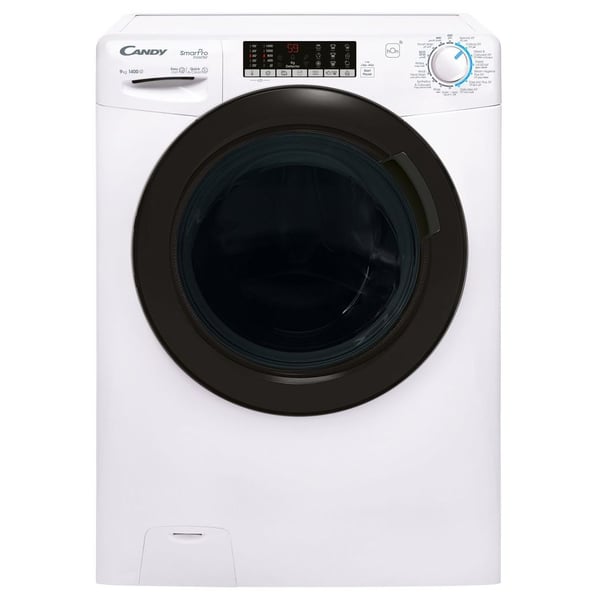 Roll over image to zoom in
Click to expand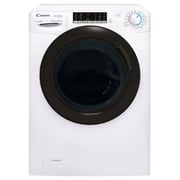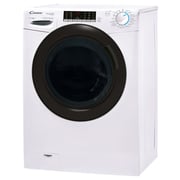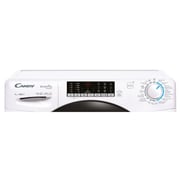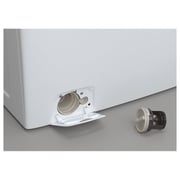 Candy
Candy Front Load Washer 9 kg CSO496TWMB-19
FREE Shipping over OMR 20,000 from seller
Delivery 2 - 4 Days
Secure Transaction
Key Information
Color:

White

Capacity:

Washer: 9 kg

It is level of noise produced by your Laundry (Lower the value, lesser will be the noise), 50dB is normal

Noise Level:

61 dB

Type:

Fully Automatic

Star Rating:

4 Stars
Details
Candy Front Load Washer 9 kg CSO496TWMB-19
SmartPro Inverter Washing Machine
The Smart Choice for Saving Time.
In our daily life full of tasks, time management is crucial. This is why Candy has designed a washing machine having 3 important things in mind: rapidity, simplicity and smartness. Candy SmartPro Inverter, with a set of 9 rapid washing programs in less than one hour, is the solution with an extra plus. It's Easy Iron function – reduces creases by 80% making your ironing much less painstaking. The Quick & Clean Technology creates a concentrated mix of clean water and detergent that sprays directly on the garments, boosting fast and effective stain removal action, even with large washing loads. This solution helps facilitate quick and effortless results, so you no longer need to apply detergent directly on your clothes stains thus ensuring Candy makes your home living easier.
Keep your garments and health safe from GERMS!
Candy SmartPro Inverter's Steam Hygiene Plus Program offers the best possible combination of high temperature, time, steam action and powerful rinsing to guarantee thorough cleaning and hygienic clothing.
9 Rapid Washing Cycles in less than one hour.
Candy SmartPro Inverter is the smartest way to save time. It is equipped with 9 different washing cycles, ideal to cover all possible needs in less than one hour.
Special 49' Cycle ensures high washing performance on full load in only 49 minutes.
Thanks to most complete set of 9 rapid washing program on the market, SmartPro Inverter helps you to dedicate yourself to the things you love most. The Special 49' is a quick cycle that runs your full load in only 49 minutes.
Easy Iron
Candy SmartPro Inverter is designed to make your daily chores easier.
The Easy Iron function has a steam action that reduces creases of laundry by 80%. The result is a strong reduction of the time needed to iron your garments – Save time with Candy SmartPro Inverter.
Full Remote Control
Candy allows you to have full control with your machine as remotely as possible through the hOn app; that allows you to set your favorite cycles and check reminders through the app – Make the smart choice with Candy SmartPro Inverter.
Smartest Technology
SmartPro Inverter furnished with the widest set of smart features that make your laundry experience better than it has ever been before via the hOn app – Candy SmartPro Inverter is the smartest choice for your washing needs.
Smart Text Scrolling Display
SmartPro Inverter facilitates the setting up of your machine with simple and unique alphabetical scrolling display to manage your washes as easily and efficiently as possible with the Smart Text Scrolling Display – Make the smarter choice with Candy SmartPro Inverter.
6 Digit Alpha Display
SmartPro Inverter's smart display is the clearest ever.
The Alphabetic Display allows to identify and set up smoothly the best washing options. Once you have selected the best washing option for the specific garments, the alphabetic display shows the name of the program in your native language*. In this way you can double check that it's the right cycle.
KG Detector
Candy SmartPro Inverter with its KG Detector function allows you to be more energy conscious. The KG Detector uses the laundry weight to determine the water intake, washing time and energy levels.
New Door Design with instant opening
The new door design with instant opening to add or remove garments any time you need, so no longer waiting time! – Save time with Candy SmartPro Inverter.
10 Year Warranty on Inverter Motor
Candy SmartPro Inverter offers a 10 Year Warranty on the inverter motor – Stay carefree with Candy.
Similar Recommended Products