Note: Delivery will be delayed due to Eid Holidays. Outside Muscat area delivery will be delayed approximately 7 to 9days.
Bosch Front Load Washer 9 kg WAT2446SGC
Key Information
Type:

Front Load Washer

They are built for efficiency.Water consumption is less. It has washing and upto 70% drying capability

Capacity:

9 kg

Ideal capacity for medium families (5 to 6 people). Fits 3 jeans, 3 shirts, 2 bed sheets, 3 pillow cases, 4 dish cloths, 4 small towels

Noise Level:

75 db

It is level of noise produced by your Laundry (Lower the value, lesser will be the noise), 50dB is normal

Energy Rating:

4 Star

Higher the Star Rating, better the Laundry will work according to energy efficiency

Color:

Inox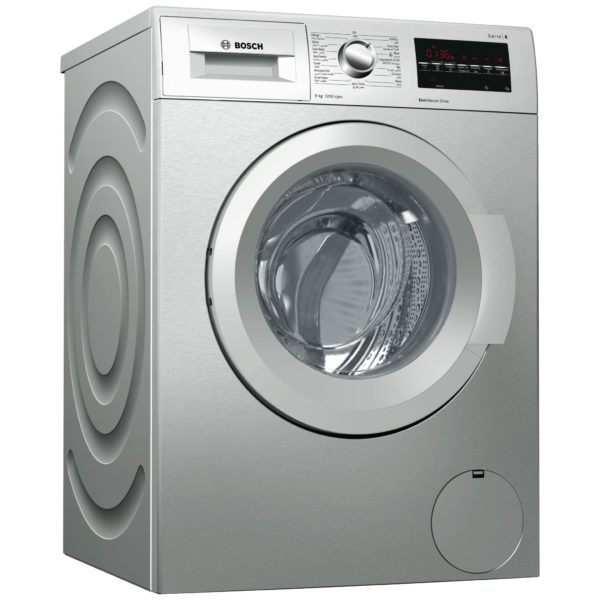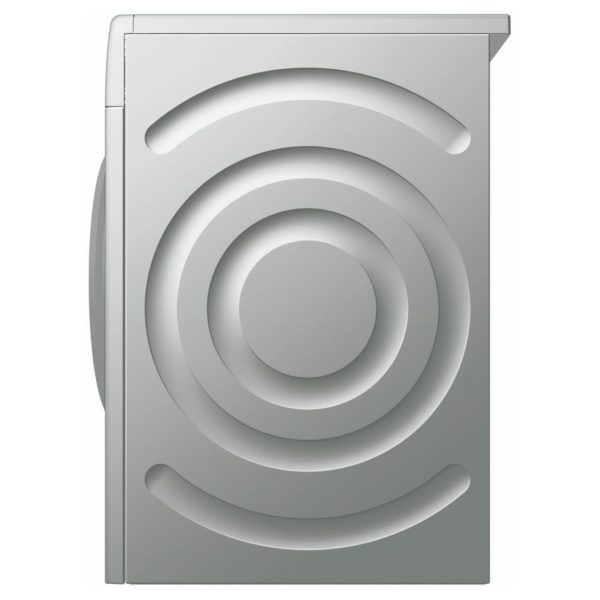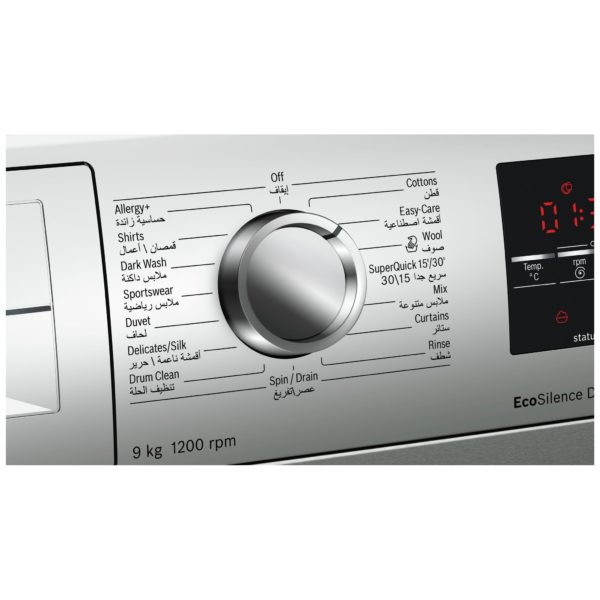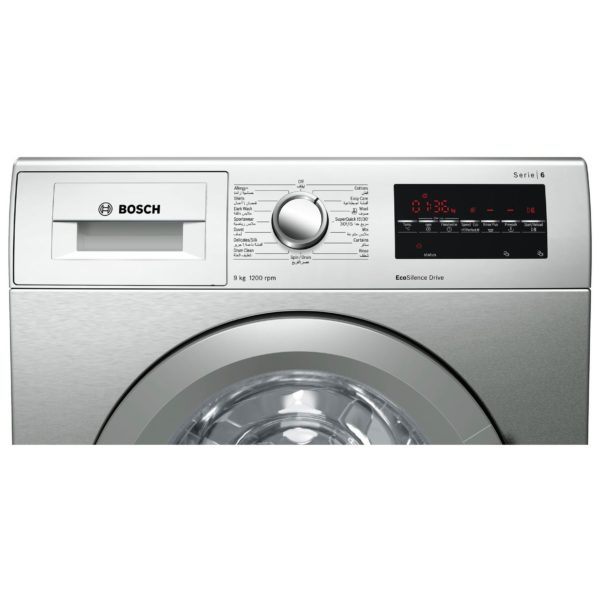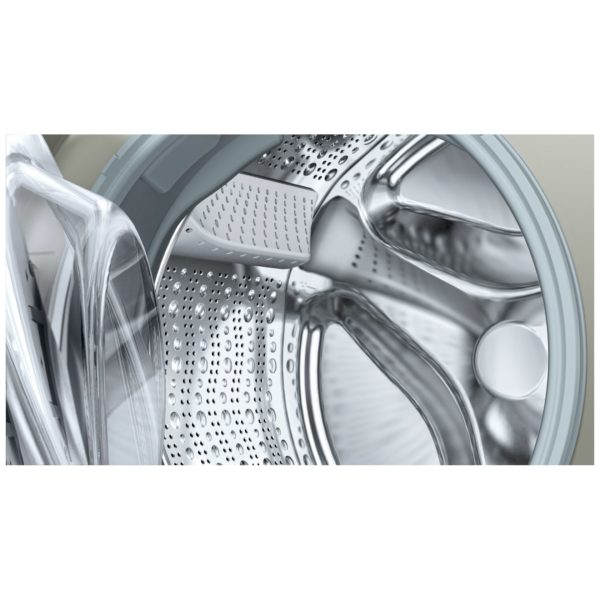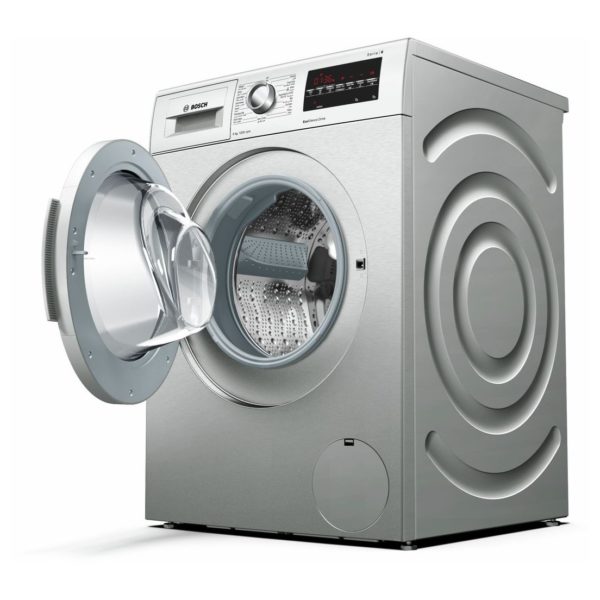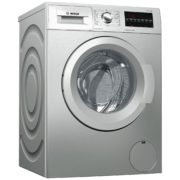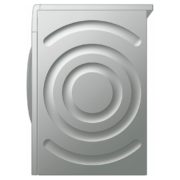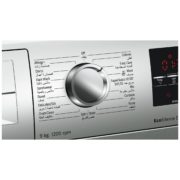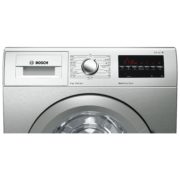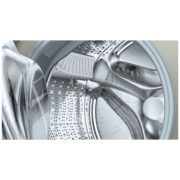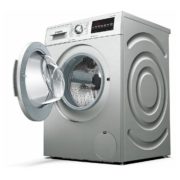 The washing machine with EcoSilence Drive™: enjoy supremely quiet operation and excellent durability.
AntiVibration sidewall: more stability and less vibration.
The new design of the side walls is not only eye catching: the system also provides more stability and reduces vibration. The enhanced insulation also regulates noise levels, making Bosch Logixx and Avantixx very quiet even during the spin cycle.
Never miss an item again. Reload by Bosch.
For any forgotten items of laundry, Reload by Bosch allows you to add or remove clothing to your washes. Just stop the running cycle and open the door of the washing maching to simply reload your additional items into the drum and continue the wash.
VarioPerfect: Washing more quickly or efficiently.
Through its perfect program range, VarioPerfect ensures top wash results for all types of fabrics and every load. With VarioPerfect, you can set most programs to be quicker or more efficient with the SpeedPerfect and EcoPerfect functions. This reduces time by up to 65% or energy by up to 50%.
ActiveWater Plus: Save money and protecting the environment thanks to the efficient water management.
ActiveWater Technology consists of three components: the sensor-controlled, continuous automatic load adjustment, the optimised water induction and the drum system. To avoid water wastage, the sensor adjusts the exact water consumption to the wash, according to the fabric type and quantity. The laundry is soaked faster and more evenly through the optimised water inflow which is particularly mild and gentle. Thanks to the VarioSoft or Vario drum and its droplet-shaped structure and paddles, the water gets distributed more evenly and faster. ActiveWater washing machines make a significant contribution to efficient water management in your home.
Start Delay for more flexibility.
With the 24h Start Delay, you can enjoy even more flexibility. You can preset the required time for the washing machine program to start. In this way, you can be absolutely certain that your washing will be finished exactly when you want.
Outstanding washing results thanks to optimum water distribution
This drum thinks for itself: The droplet-shaped structure and the size of the paddles ensure faster and more even water distribution – producing outstanding washing results.
To ensure your clothes are properly washed, your drum itself needs be clean. The DrumClean program is designed to remove any exisitng dirt and bacteria from the washing machine drum, guaranteeing an excellent cleaning cycle.


EcoSilence Drive™: extremely energy-efficient and quiet in operation with 10 year motor warranty.
Energy Consumption indication: indication of energy consumption at selection of program.
VarioPerfect TM: takes 65% less time or uses 50% less energy – thanks to freely selectable program options.
WaveDrum: especially gentle and efficient washing thanks to a unique drum structure.

























































Main
Brand
Bosch
Color
Inox
General
Energy Rating
4 Star
Built In / Free Standing
Free Standing
Type
Front Load Washer
Loading Type
Front Load
Capacity
9 kg
Display
LED
Spin Speed
1200 rpm
Power Supply
220-240 Volts
Frequency
50-Hz
Noise Level
75 db
Programs
Delicates programme | Easy-care programme | Whites and coloureds programme | Woollens hand wash programme
Dimensions
Dimensions (H x W x D)
848 x 598 x 590 mm
Weight
68.6 kg
Features
Features
Multiple water protection | 3D AquaSpa wash system with cascade for faster water penetration
Others
Country of Origin
Turkey