Laundry

/

Beko Front Load Washer 9kg WX943440W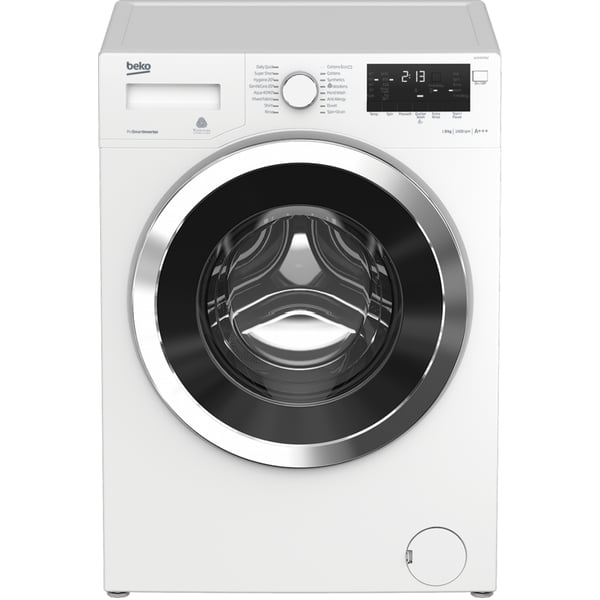 Roll over image to zoom in
Click to expand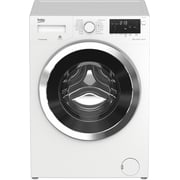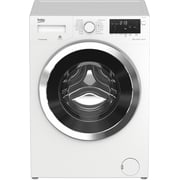 Beko
Beko Front Load Washer 9kg WX943440W
Key Information
Capacity:

Washer: 9 kg

It is level of noise produced by your Laundry (Lower the value, lesser will be the noise), 50dB is normal

Noise Level:

53 dB

Water Consumption:

29 l
Details
EcoSmart
This A+++ rated washing machine could save you £10 every year, compared with an A+ rated model of the same size. That equates to enough washing tablets to do 36 washing cycles for free. This model is part of our energy efficient EcoSmart range and has been verified by the Energy Savings Trust. 1
Beko Select
Beko Select is new, stylish and only available in Currys. It uniquely combines advanced technology, great energy efficiency, with incredible value for money.
Large load capacity (9kg)
Large drum sizes allow you to wash more in one go, making life easier and saving you money. You can wash 4 double bed linen set, 12 towels or 45 shirts in one wash cycle. That's why it's ideal for large families who frequently wash large loads and bulky items. You'll end up saving even more time and energy. 2
High Spin Speed
The high spin speed helps save time on the line or energy use in the tumble dryer by removing more water.
ProSmart Inverter Motor
The Pro-Smart Inverter Motor provides a more energy efficient and quieter operation and comes with a 10 year warranty for extra peace of mind.
A+++ Energy Rating
This Beko appliance is up to 40% more energy efficient than 'A' rated models, saving you moneyon energy bills.
Fast wash for full load – 9kg in only 28 min
You no longer have to wait hours for your daily wash to be ready, with our Daily Quick programme you can wash a large 9kg load of laundry in just 28 minutes.
Fast wash for small load – 2kg in 14 min
Quick wash programmes allow fast cleaning of smaller loads. Ideal for when you're in a hurry, the Xpress Super Short Programme washes a 2 kg load of lightly soiled laundry in just 14 min.
Stylish Digital Display with Electronic Knob
The stylish digital display keeps you informed by showing the time remaining till the end of the wash as well as the time delay. Moreover, the electronic knob with indicator lights for each programme makes programming the wash that much easier.
Innovative Programmes
Choose from a variety of innovative programmes to suit different clothing types, ensuring your clothes are impeccably cleaned and cared for.
Duvet Programme
A wash cycle designed for the requirements of a large size duvet. With this programme you can wash a double or even king size fibre duvet (maximum weight 3kg and maximum 200 x x200 cm in size).
Anti Allergy Programme
An anti-allergy wash cycle, endorsed by Allergy UK, helps reduce the amount of allergens like cat, dog and pollen allergens as well as bacteria and funghi. Ideal for households with allergy or asthma sufferers.
Gentle Care 20° Programme
Ideal for delicate items of clothing, this programme provides the same washing performance as when wasing at 40 degrees. Using an optimised mechanical action and heating profile, this programme helps maintain the colour and quality of delicate clothes, making them look as good as new for longer.
Automatic water level reduction for half or small loads
This Beko appliance automatically reduces the water level for half or small loads, saving you money on utility bills.
AquaWave System
Provides gentle yet effective washing conditions for all garments, making them last longer. The full interior design of the washing machine is replicating the gentle yet effective power of waves. The specially designed drum pattern gently carries the laundry away from the drum like a soft wave. This together with the wave-form paddles make the clothes move smoothly around the drum. The specially designed curve of the glass helps the laundry move around the drum easily, improving mixing of the water with the detergent and improving the cleaning performance.
Extra large porthole door
For easy loading and unloading of larger items of laundry like duvets or bed linen.
Smart Washing Machines
Compared to regular washing machines that lose nearly 25% of detergent during washing, Beko's specially developed Aquafusion Technology reduces the amount of wasted detergent and significantly enhances washing performance. Our Aquafusion Technology is a feature on all Beko washing machines.
Child safety lock
Activating the Child Safety Lock prevents the accidental changing of washing programmes by locking the buttons.
Similar Recommended Products