TP-Link EAP110 300Mbps Wireless N Ceiling Mount Access Point
TP-Link EAP110 300Mbps Wireless N Ceiling Mount Access Point
Key Information
Type:

Wireless Access Point

Frequency band:

2.4 GHz

It is the rate of radio signal to send and receive communication signal. Common frequencies are 2.4 Ghz and 5 Ghz.5GHz provides faster data rates at a shorter distance. 2.4GHz offers coverage for longer distances, but may perform at slower speeds

Operating Distance:

Up to 10 m

Input/Output Terminals:

1 x Fast Ethernet (Support Passive PoE)

Ethernet:

1

You can connect multiple devices using wired ethernet cable in a local area network

Color:

White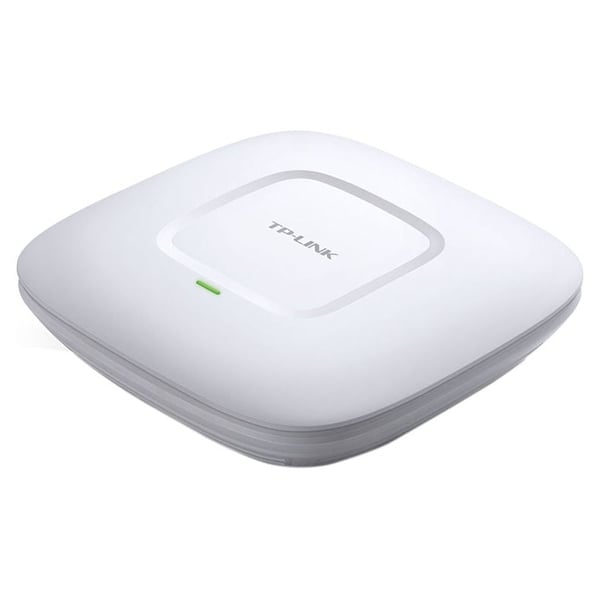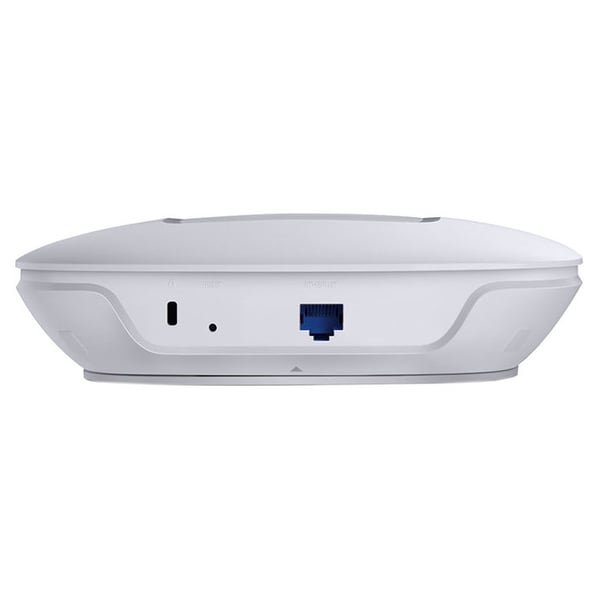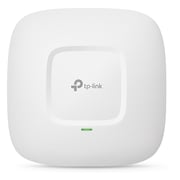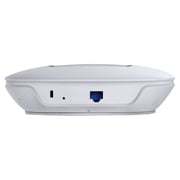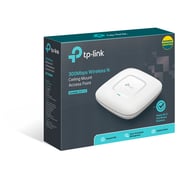 TP-Link EAP110 300Mbps Wireless N Ceiling Mount Access PointEAP Controller Software enables administrators to easily manage hundreds of EAPsSupports passive PoE for convenient installation up to 100 metersCeiling mounting design with chassis make it easy to deploy on a wall or ceilingCaptive portal provides one convenient method of authentication for Wi-Fi guestsMulti-SSID divides multiple wireless networks for different usersEnterprise class Wi-Fi security help to decrease network security threatsSupports management vlan for an enhanced network management
Flexible Placement

Easy mounting design & PoE
The EAP's "ceiling lamp" appearance and easy mounting design with chassis make it easy to be integrated seamlessly into any wall or ceiling surface to blend in with most interior decorations. EAP110 support Passive PoE to make deployment effortless and flexible.
Business Class Wireless
Powerful Hardware
EAP110 features 802.11n Wi-Fi and 2*2 MIMO technology,wireless speeds of up to 300Mbps
With Qualcomm Atheros 560MHz chipsets, EAP ensuresincredible wireless coverage and reliability
Free Centralized Management Platform
EAP Controller Software
EAP Controller Software enables users to manage hundredsof TP-LINK's EAPs simultaneously and easily from PCs in the network, makingcentralized business Wi-Fi management efficient, visible and morecost-effective like never before.
Efficient Guest Authentication Captive Portal
Captive portal provides one convenient method ofauthentication for Wi-Fi guests. A captive portal requires users to performcertain actions before network access is allowed. The required action must beverified by an external portal server or customized database by theadministrator, which can be simply viewing and agreeing to an acceptable usepolicy, or entering a user ID and password.
Applicable to Multi-user Environment
Designed for Business Performance
With easy mounting design, PoE power supply, Clusterfeature, Centralized management software, Captive portal, Auto RF management,and business hardware, EAP series are specially designed for the high-density,most demanding business environments, including schools, hotels, andenterprises.
Quality of Service (QoS): Prioritizes data, voice,and video applications to ensure time-sensitive traffic takes priority over allother traffic



Compatibility: EAP110 supports 802.11 b/g/n products
Load Balance: Load balance ensures large numbers of usershave smooth network experiences in large business networks
Multiple Operating Modes: Multiple operating modessatisfy different application conditions including Managed AP and standalone APmodes
LSOH Material: Adopts Low Smoke Zero Halogen (LSOH)materials for UL2043 compliance
Dust Proof design: Prevents dust from dropping onto thePCB through bypass louver, which ensures long-term, unhindered operation
Main
Brand
TPLink
Color
White
General
Type
Wireless Access Point
What's in the Box
300Mbps Wireless N Ceiling Mount Access Point EAP110 | Passive PoE Adapter | Power Cord | Mounting Kits | Resource CD | Installation Guide
Features
Features
IEEE 802.11b/g/n Network Standards | 2.4 GHz Operating Frequency | Up to 300Mbps Wi-Fi Data Speeds
Additional Features
PoE Compatible | 2 x Internal Omni-Directional Antennas | Ceiling & Wall Mount Kits Included | <20 dBm Transmit Power | WEP/WPA/WPA-2 Encryption
Standards
IEEE 802.11n, IEEE 802.11g, IEEE 802.11b
Bands
Single
Frequency band
2.4 GHz
Frequency Range
2.4-2.4835 GHz
Data Rates
11n: Up to 300Mbps(dynamic) | 11g: Up to 54Mbps(dynamic) | 11b: Up to 11Mbps(dynamic)
Operating Distance
Up to 10 m
Connectivity
Input/Output Terminals
1 x Fast Ethernet (Support Passive PoE)
WiFi
Yes
Ethernet
1
Power & Battery
Power Supply
24 VDC / 1 A Passive PoE supply
Power Consumption
7.7 Watts
Physical
Antenna Type
Omni directional internal antennas
Number of Antenna
2
Certifications
CE, FCC, RoHS
Dimensions
180 x 180 x 47.5 mm
000000000001026640