Dlink DIR3060 EXO AC3000 Smart Mesh Wifi Router + 3X DRA2060 AC2000 Mesh Range Extender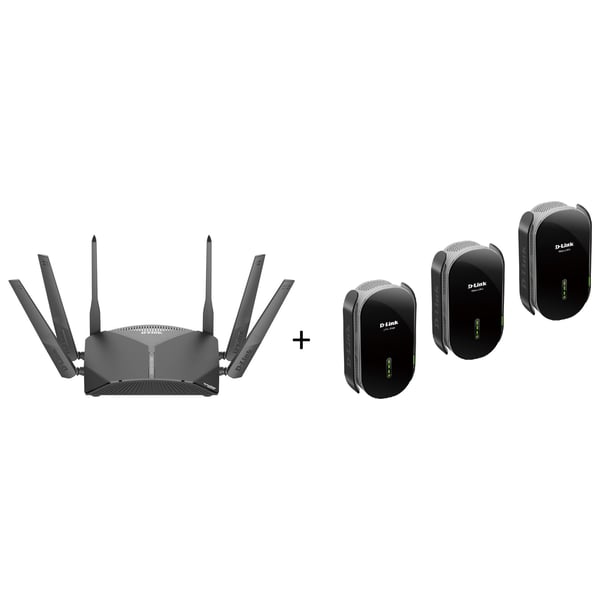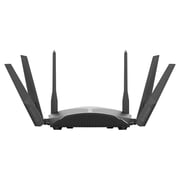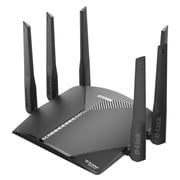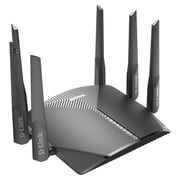 Dlink
Dlink DIR3060 EXO AC3000 Smart Mesh Wifi Router + 3X DRA2060 AC2000 Mesh Range Extender
FREE Shipping
Delivery 24 Hrs Delivery * within Muscat
Secure Transaction
Key Information
Type:

Router

Input/Output Terminals:

LAN, WAN, USB

Color:

Black
Details
DIR-3060 EXO AC3000 Smart Mesh Wi-Fi Router - The EXO AC3000 Smart Mesh Wi-Fi Router brings warp speed tri-band AC3000 Wi-Fi, powerful McAfee protection, voice-based smart home Wi-Fi control and radical Wi-Fi mesh technology to your smart home. Because you know you deserve more than just a Wi-Fi signal.
Luxuriate in lag-free, buffer-slaying video streaming and online gaming – Crazy-fast combined Wi-Fi speeds of up to 400 Mbps (2.4 GHz) + 866 Mbps (5 GHz) + 1733 Mbps (5 GHz)
Keep malicious threats at bay and safeguard online privacy – Built-in powerful McAfee protection for every device on your network
Works with the Google Assistant and Alexa – Give your smart home Wi-Fi a new voice
Monitor your kids' internet activity – Comprehensive parental controls
Advanced Wi-Fi Mesh – Turbocharge your whole home network with intelligent functionality
Easily handles everything you throw at it with high-power 880 MHz dual-core processor
Test Internet speed – See how your Router-to-ISP connection measures up
Free D-Link Wi-Fi app – Set up and manage your network from your smartphone
Built-in McAfee Protection
Stay on guard 24/7 with built-in McAfee protection at the network level.
Voice Control
Take control of your smart home network with voice commands using the Google Assistant or Alexa.
Wi-Fi Mesh
Get a more dynamic, future-ready mesh network with advanced Wi-Fi Mesh functionality.
Dual-Core Processor
More processing power for all your Wi-Fi needs and advanced EXO features.
Auto Update
Make every firmware upgrade smooth, fast and automatic.
Test Internet Speed
Measure the true speed of your connection with integrated internet test.
YOU DESERVE MORE THAN JUST A WI-FI SIGNAL
Why do you need the EXO AC3000 Smart Mesh Wi-Fi Router? Because better Wi-Fi just doesn't cut it any longer in today's smart, connected homes (and YOU KNOW you deserve way more than just a Wi-Fi signal).
EXO takes your combined Wi-Fi speeds up to new highs of 400 Mbps (2.4 GHz) + 866 Mbps (5 GHz) + 1733 Mbps (5 GHz).

It's an all-in-one cyberthreat-busting, parental control-wielding solution.

It's a smart Wi-Fi router bursting with new mesh-Wi-Fi optimizing features that make configuring, managing and optimizing your mesh Wi-Fi a breeze. And it does it all with voice commands, so it's the perfect companion for your Google Assistant- or Alexa- powered smart home.
MORE POWERFUL
Need warp speed tri-band Wi-Fi for your no-cable-all-streaming home? The EXO AC3000 Smart Mesh Wi-Fi Router packs a powerful 880 MHz dual-core processer to handle buffer-free gaming and lightning-fast surfing with ease.
MULTIPLE CONNECTIONS FOR MULTIPLE DEVICES
EXO features MU-MIMO(Multi-User MIMO) technology, allowing multiple devices to receive data simultaneously. Compatible devices no longer have to queue up for Wi-Fi because each gets its own dedicated, super-fast Wi-Fi stream.
With EXO, no device gets left behind.
One is Good, Two is Better, Three is Best
EXO AC3000 Smart Mesh Wi-Fi Router is a tri-band router broadcasting three separate bands while intelligently assigning each connected device to the most suitable band for optimal performance. Having too many devices connected to a single or dual-band router leaves your network congested and sluggish. Beaming one 2.4 GHz band and two separate 5 GHz bands allows you to connect more devices with less interference and a more stable connection.
PERFECT FOR
Hardcore Gamers
Don't let your Wi-Fi get in the way of your winning streak. With the EXO AC3000 Smart Mesh Wi-Fi Router, you'll trash the competition every time. It incorporates QoS to dynamically adjust your connection for optimal performance and features an integrated internet test so you'll always know how your internet measures up before you get your game on.
Experienced Smart Home Owners
Got a Google Assistant- or Alexa-enabled smart home that reacts to your every command? The EXO AC3000 Smart Mesh Wi-Fi Router completes your smart home experience with hands-free voice control over your Wi-Fi and on top of that – the power of McAfee protection built into your network to guard every connected device against hackers and other malicious cyberthreats.