Nespresso GCV1 Vertuo Next Coffee Machine GCV1-GB-RE-NE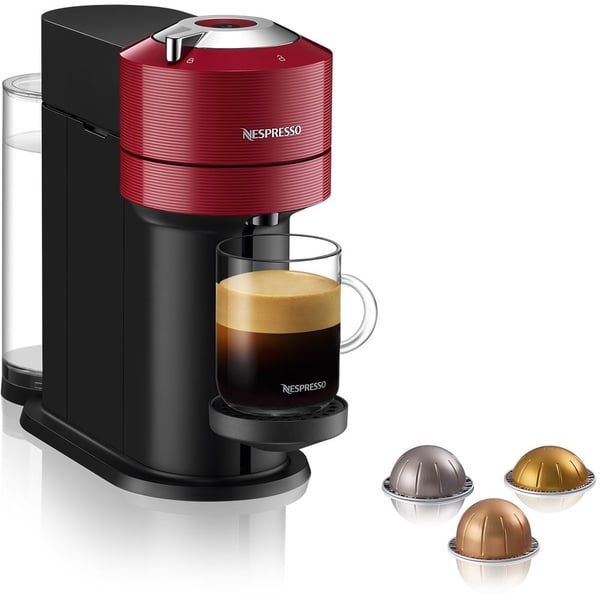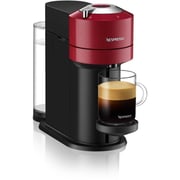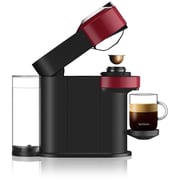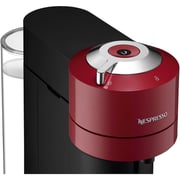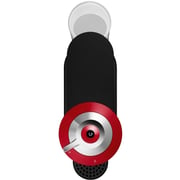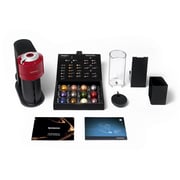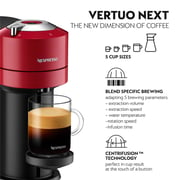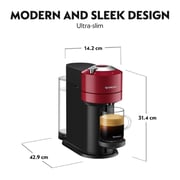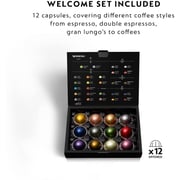 Nespresso
Nespresso GCV1 Vertuo Next Coffee Machine GCV1-GB-RE-NE
Key Information
Type:

Coffee Machine

Power Supply:

220 - 240 Volts

In the Box:

Capsule,Coffee Machine

The larger the capacity, the more beverage can be processed

Capacity:

1.1 Litre

More power will help you prepare beverage faster

Power Consumption:

Up to 1500 Watts

Color:

Red
Details
Coffee brewing takes on new dimensions with the Nespresso Vertuo Next coffee machine.
Vertuo Next coffee machine
Five coffee cup sizes at your fingertips: exciting Espressos (40 ml single, 80 ml double), balanced Gran Lungos (150 ml), classic mugs (230 ml) or let your Nespresso moment last even longer with the easy-to-drink Carafe Pour-Over Style (535 ml). The codes on each Vertuo coffee pod are read individually to reveal every blend's hidden treasures. At the touch of a button, Nespresso's Centrifusion Technology spins together ground coffee and water up to 4,000 times per minute. Crafting that all-important crema. Accented in chrome and available in different colours, it's a machine for all kitchens. It even pleases the planet, using recyclable coffee pods and made of 54% recycled plastics. For quality brewed coffee, long into the future.
Five cup sizes, for every fancy
A single elegant machine. 5 coffee cup sizes at your fingertips. From easy-to-drink Carafe Pour-Over Style (535 ml) to classic coffee mug (230 ml), or balanced Gran Lungo (150 ml). And of course, intense single (40 ml) or double (80 ml) Espresso. Sealed in single-serve coffee pods for a fresh brew, from field to cup.
Centrifusion Technology
Using Nespresso's patented Centrifusion technology, the Vertuo Next coffee machine liberates the flavours and aromas within each blend. By spinning the ground coffee in each recyclable Vertuo coffee pod up to 4,000 times a minute. Straight into your cup, and with the crema to match. Providing you with an expertly brewed cup, time after time.
To each blend, its coffee
Brewed coffee now also means tailored coffee with the Vertuo Next machine. Nespresso's smart extraction system recognises your selected Vertuo coffee pod from the code on its rim, and adjusts the brewing parameters accordingly. To help fully reveal the treasures nestled in each coffee capsule. There's no need to change settings. Simply press the single button and enjoy every brew.
Up, to date / Keeping up with the times
To make sure your coffee machine never falls behind, Nespresso's Vertuo Next updates itself automatically via WiFi. For a constantly seamless coffee brewing experience. So that you can focus on enjoying quality brewed coffee long into the future. From one cup, to the next.
With every cup
We cultivate some of the finest coffee in the world that preserves the best of our world. With human care and creativity.
Commitment that bears fruit
Through our AAA Sustainable Quality Program, we pay above market prices for coffee, and invest in social programs such as pensions and insurance, to ensure coffee farming is a profitable business for future generations.
Doing is everything
We commit that by 2022 your cup of Nespresso will be fully carbon neutral. We are continuing to reduce the footprint of each cup and are expanding tree planting in and around coffee farms to compensate the remaining emissions of a cup of Nespresso with our NGO partners Rainforest Alliance and PUR Project.
Coffee Varieties
Nespresso offers a wide variety of Coffees to satisfy every taste at any moment of the day. All Nespresso Coffees can also be enjoyed with milk or milk froth to create a variety of different recipes such as Cappuccinos, Lattes and Macchiatos.
Recycling
Nespresso offers complimentary recycling services to all of its customers. Recycle your used coffee capsules at your nearest Nespresso boutique.