HAMA 177057 BT TWS + Hama U6119499 PB 6000 mAh BD
HAMA 177057 BT TWS + Hama U6119499 PB 6000 mAh BD
Key Information
Type:

Headphones

Built in Microphone:

Yes

Bluetooth:

Bluetooth 5.0

You can connect your Bluetooth compatible devices, wirelessly and enjoy music in headphone

Connectivity Type:

Wireless

Color:

Black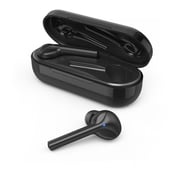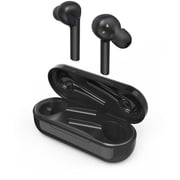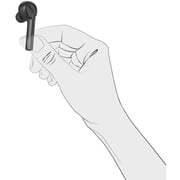 Head freedom begins with "Style": the true wireless earphones use no cables, for maximum freedom of movement without any tangled cables. The Bluetooth earphones can be controlled especially intuitively with voice commands and touch control.
FREEDOM BEGINS WITH A FREE HEAD
WITH THE 'STYLE' TRUE WIRELESS HEADPHONES
Music or telephony – if you spend a lot of time on the go, you want maximum freedom of movement without cables getting in the way. Our 'Style' true wireless headphones dispense entirely with cables, and boast every kind of technical innovation and perfect sound quality. Rock to the sound of your favourite music or allow yourself to gesticulate when making a telephone call – thanks to true wireless technology, there is no longer any tiresome cable to get caught up in. In addition to wireless freedom, the Bluetooth headphones offer voice control and touch control to make things even easier for you.
WIRELESS FREEDOM
Does this sound familiar? The weather is fantastic, so you decide to walk to the café and listen to your favourite music on the way. But your hands constantly get caught up in the headphone cable. This spoils your enjoyment of the music and your mood. Don't make compromises – make a smooth transition to wireless freedom. With the Bluetooth headphones, there is no annoying cable, no ear hooks that dig in. You simply have earphones in your ears – you can barely feel them, and in addition to that, they go well with any outfit. You create a reliable and stable connection to your smartphone via Bluetooth 5.0. In combination with the latest sound processors, you enjoy powerful and balanced sound.
EASY OPERATION THANKS TO BLUETOOTH
The touch sensor enables so-called one-touch control. This is intuitive and saves you the bother of having to look for different buttons. Call control, volume control, voice control – it all functions via the control panel.
SWITCH ON THE HEADPHONES
The headphones switch on automatically when you remove them from the charging station. To switch them off, simply place them back in the charging cradle.
ACCEPT AND END A CALL
To accept a call, briefly press the touch sensor (either on the right or left earphone) twice. You end the call in exactly the same way.
REJECT A CALL
If you do not want to take a call, touch the left or right control panel and hold your finger there for 2 seconds; a brief acoustic signal sounds – the call is rejected.
REDIAL
To redial a number, press the touch button on the left earphone twice; after the acoustic signal, simply say 'Redial'.
HEY SIRI, HEY GOOGLE
BLUETOOTH HEADPHONES OFFERING DIRECT ACCESS TO VOICE ASSISTANTS
How about if you're on the go in the city and spontaneously decide to look for a vegan café? Bluetooth pairing and touch control allow direct access to voice control with Siri and Google – without having to hold the smartphone. Simply touch the touch sensor on the left earphone twice; you will hear an acoustic signal and can then ask your question or say what you want. This is very practical, as it's better to have your hands free when on the go. What's more, if it's raining, you can simply leave your smartphone in your pocket or backpack while looking for the nearest place to eat. The volume level can be likewise controlled by voice command, for example: 'Increase the volume by 50%', 'Decrease the volume by 30%', 'Maximum volume'.
A PERFECT STABLE FIT
The changeable in-ear pads are made of silicone and come in three different sizes; they sit comfortably and reduce disturbing ambient noise, allowing you to concentrate fully on your conversation, music or audio book. The special in-ear design also helps to hold the earphones securely in place. The earphones are particularly comfortable to wear: Thanks to the lightweight design, you can barely feel them.
FULL POWER THANKS TO CHARGING STATION
OPERATING TIME UP TO 20 HOURS
With the charging station, it's not just at home that you can charge the Bluetooth headphones within two hours using a Micro-USB cable. The charging station is so compact that you can take it anywhere with you. It can then be used to recharge the wireless headphones up to four times. The music playback time or talk time is 4 hours with fully charged true wireless headphones, 20 hours with the mobile docking station. For this purpose, you simply place the earphones in the charging box and leave them there to charge.
Main
Brand
Hama
Color
Black
General
Type
Headphones
Form Factor
In Ear
Compatible Products
Smartphone with Bluetooth standard v 4.2 or later
What's in the Box
1 "Style" Bluetooth headphones | 1 charging station | 3 pairs of silicone ear pads in various sizes (S/M/L) | 1 USB/micro-USB charging cable | 1 instruction manual
Features
Controls
Answer button | Finger-Touch Sensor | QuickPair
Audio
Noise Cancellation Headphone
Yes
Impedance
16 Ω
Frequency Response
90 dB +/- 3 dB
Frequency Range
20 Hz - 20 kHz
Microphone
Impedance
0.3 kΩ
Built in Microphone
Yes
Frequency Range
10 Hz - 10 kHz
Connectivity
Connectivity Type
Wireless
Bluetooth
Bluetooth 5.0
Operating Distance
10 m
000000000001234836