Garmin 010-02430-11 Venu 2 Smart Watch Slate Stainless Steel Bezel with Black Case
Roll over image to zoom in
Click to expand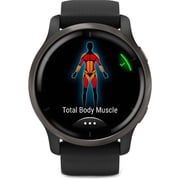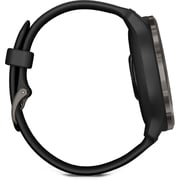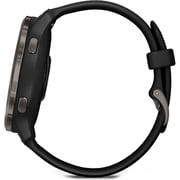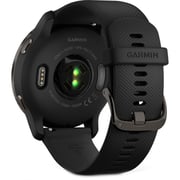 Garmin
Garmin 010-02430-11 Venu 2 Smart Watch Slate Stainless Steel Bezel with Black Case
FREE Shipping
Delivery 2 - 4 Days
Secure Transaction
Key Information
Display Type:

AMOLED

They are bluetooth capable watches used to answer phone calls , receive alerts, read email and text messages, get a weather report, listen to music, dictate email or text messages or ask a digital assistant a question

Type:

Smart Watch

The total number of pixels on the screen, more pixels results in a sharper display

Resolution:

360 x 360 Pixels

Bluetooth Version:

Bluetooth 5.0

Capable of upgrading to future app versions and can be connected to related products

Compatible Products:

Android and iOS Device

Battery life:

11 Days Smartwatch Mode, 8 Hours GPS and Music On

Color:

Black Slate
Details
With a stainless steel bezel, round face, and silicone band, the Garmin Venu 2 GPS Smartwatch is a stylish option for managing your daily activities.
In just 2 minutes, you can generate a report through the Garmin Connect app with your heart rate, HRV (Heart Rate Variability), Pulse Ox, respiration, and stress.
Body Battery Energy Monitoring
View your body's energy levels throughout the day so you will know the best times to workout or to rest.
The Venu 2 will tell you know whether you're having a calm, balanced, or stressful day. When stressed, you will receive reminders to relax, along with prompts to conduct a short breathing exercise.
Through the Garmin Connect app on your phone, you can track your menstrual cycle or pregnancy. Log symptoms, receive exercise and nutrition education, and more. A watch-based Women's Health Tracking app will show you your logs right on the Venu 2's screen.
It's essential that you drink enough fluids every day, and this feature gives you the ability to log your daily intake. You can set a hydration goal that will automatically adjust based on how much you sweat during workouts.
See how well you're breathing throughout the day, while sleeping, and when doing specific breathwork and yoga activities.
If you're felling stressed out, you can start a breathwork activity to relax and calm you. During the activity, the Venu 2 will track your stress and respiration so you can see how well you're breathing.
As you rest, the Venu 2 tracks your different sleep stages, records your heart rate, stress, Pulse Ox, and respiration. This is combined into a single Sleep Score that you can use to monitor your sleep quality over time. The Venu 2 will also provide insights on how you can improve your sleep.
The integrated heart rate monitor is used during workouts, sleep, and other features – even swimming. The Venu 2 will alert you if it gets too high or too low.
A variety of variables are used to provide you with your Fitness Age, which lets you know whether your body is younger or older than your actual age. Variables such as, chronological age, weekly vigorous activity, resting heart rate, and BMI.
Animated On-Screen Workouts
Cardio, strength, yoga, Pilates, and HIIT (High-Intensity Interval Training) workouts are preloaded into the Venu 2 with easy-to-follow animations to help you perform each of them correctly.
Whether indoors or outside using GPS, the Venu 2 can track 25 different sports, including walking, running, cycling, pool swimming, golf, and more.
Advanced Strength Training
This profile puts scaling and strength PRs on your wrist for display, as well as graphics that show which muscle groups you've worked on.
This profile gives you different timers to use for various HIIT workouts, such as AMRAP, EMOM, or Tabata. You can also create a custom timer if needed. Set the number of rounds, work/rest intervals, and more.
If you need extra workouts, Garmin has you covered with more than 1400 exercises on the Garmin Connect app. Select the ones you like on your smartphone and then download them to the Venu 2.
A free personal running coach on the Venu 2 will help you train for your next 5K, 10K, or half marathon.
This feature lets you know how many intensity minutes you've earned, when during the day you've earned them, and during which activity. They are also viewable as a data field during timed activities.
When paired with a compatible smartphone, you can receive email, text, and other alerts on your wrist. If your phone is an Android phone, you can also respond to texts from the Venu 2.
The Venu 2 comes with enough internal storage for approximately 650 digital songs. You can stream that music from your watch to a pair of optional Bluetooth headphones. You can also access playlists from streaming accounts, such as Spotify, Deezer, or Amazon Music.
Safety & Tracking Features
When paired with your smartphone, you can send your live location to your contacts manually, or during select outdoor activities, automatically with built-in incident detection.
Access the Garmin Connect IQ Store to download custom watch faces, add data fields, and apps to the Venu 2.
All of the fitness and health information tracked by the Venu 2 can be easily viewed in one place when you sync with the Garmin Connect app. The app also gives you access to the entire Garmin Connect community, where you can share data and compete.
Battery Life with Rapid Recharging
On a full charge, you can get up to 11 days of battery life in smartwatch mode, up to 22 hours in GPS mode, or up to 8 hours in GPS mode with music streaming. Rapid recharging lets you get up to 1 day of smartwatch mode or up to 1 hour of GPS mode with music, with just 10 minutes of charging.
If you need to maximize your battery life, you can use this mode to adjust the settings that impact battery life the most.
Similar Recommended Products