Bosch Upright Freezer 242 Litres GSN36VI3E8
Bosch Upright Freezer 242 Litres GSN36VI3E8
Key Information
Type:

Upright Freezer

Vertical standing freezer

Number of Doors:

1

Dimensions (H x W x D):

1860 x 600 x 650 mm

Color:

Stainless Steel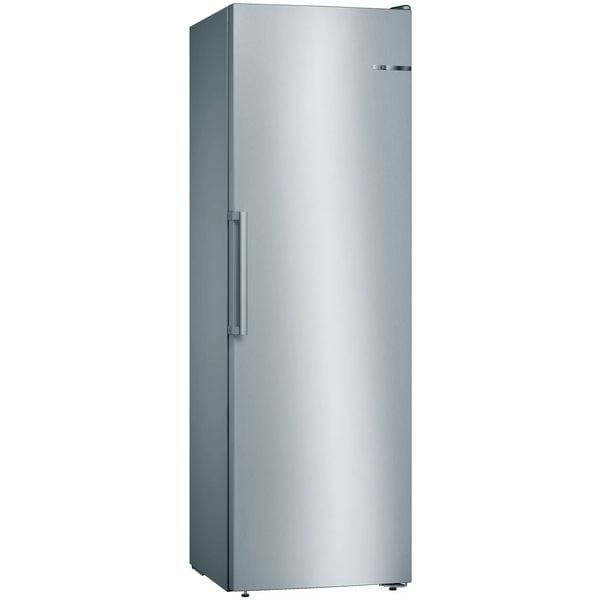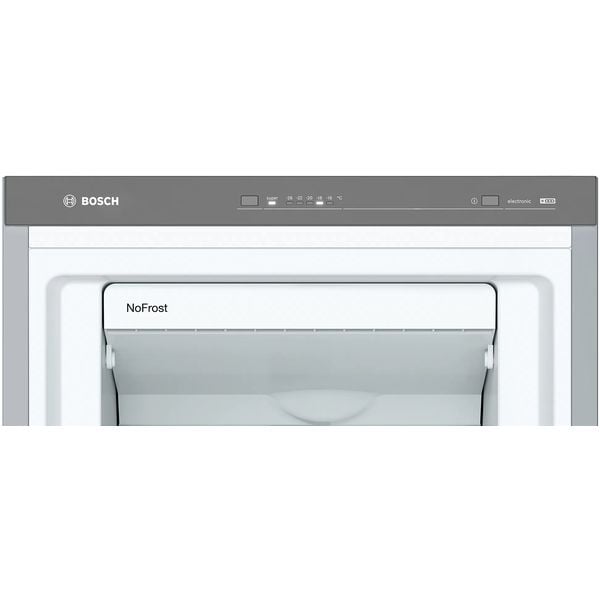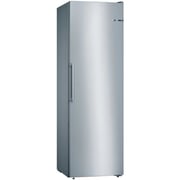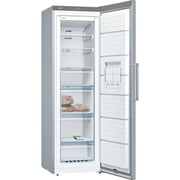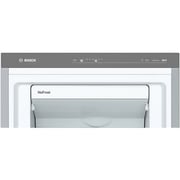 Bosch freezer 4 drawer + 2 shelves no frost 242 litres stainless steel GSN36VI3E8
More space for xxl frozen goods with the BigBox Freezer Food Drawer.
An additional frozen food tray for practical stacking of a container of frozen food or large frozen products such as briquettes or pizza. Regardless of whether you have a birthday party or a wedding – at BigBox, you will have enough space for your frozen food products.
Permanent protection from fingerprints.
The front faces are made of stainless steel with an anti-fingerprint coating that specifically protects the exterior from final handling. This protective coating makes it difficult to catch fingerprints, so the surface stays clean for longer, more scratch-resistant and easy to clean.
Total flexibility in freezer area.
You can easily disassemble the safety glass shelves in the freezer area to create a wider space – to store a multi-tiered cake, or say a whole turkey. Family sized foods can be stacked on glass surfaces with ease.
The Ice Complex
In the event of a power outage, the coolant plate is released through the collector to release cold air in order to maintain the temperature of the tank
NoFrost: save time.
With the NoFrost model, moisture in the air is collected in the central feather evaporator rather than in the appliance or on foods. This freezer, which draws heating out of the freezer area, is automatically thawed from time to time. The resulting condensation is taken outside and evaporated using compressor heating in a special collection vessel. This reduces the humidity in the device, which means that there is no snow at all. So no more worry about defrosting anymore.
FreshSense: the ideal storage climate.
Thanks to the optimum storage conditions, the food maintains an amazing consistency – ice cream, for example, is neither too soft nor too hard. The constant temperature inside the refrigerator is a critical factor in achieving more fresh and fresh products. FreshSense sensors continuously monitor and control the ambient temperature and freezer temperature. The result is that you get a constant temperature inside the refrigerator, independent of the temperature outside.
Multi-flow system: even distribution of air to provide freshness for a longer period.
The fan-assisted multi-flow system delivers cool air currents that exit at levels in the cooling and freezing areas. Reduced temperature fluctuations and reduced cooling times – helping foods retain flavor for longer.
Main
Brand
Bosch
Color
Stainless Steel
General
Built In / Free Standing
Free Standing
Type
Upright Freezer
Body Finish
Stainless Steel
Number of Doors
1
Defrost Type
No Frost
Features
Features
VarioZone variable range: more flexibility with versatile glass shelves and drawers in the freezer compartment.NoFrost: Say no to the hassle of defrosting, thanks to the complete protection from frost - which saves time and effort.
Additional Features
BigBox frozen food drawer: for stacking storage containers or large frozen foods.FreshSense: Preserving the ideal food due to a constantly controlled temperatureMultiAirflow: the self-regulating refrigerator.
Dimensions
Dimensions (H x W x D)
1860 x 600 x 650 mm
Power
Energy Efficiency Class
A ++
Power Supply
220 - 240 Volts
Frequency
50 Hz
Weight
Weight
77.74 KILOGRAM
S100579124