Asus Zenbook UX430UN Ultrabook Laptop – Core i7 1.8GHz 8GB 512GB 2GB Win10 14inch FHD Blue
Asus Zenbook UX430UN Ultrabook Laptop – Core i7 1.8GHz 8GB 512GB 2GB Win10 14inch FHD Blue
Key Information
Laptop Type:

Ultrabook

Highend laptop, sleek in design but uncompromising in performance

Screen Size:

14 Inches

Actual size in inches measured diagonally

Storage Size:

512 GB

Weight:

1.0 to 1.3 kg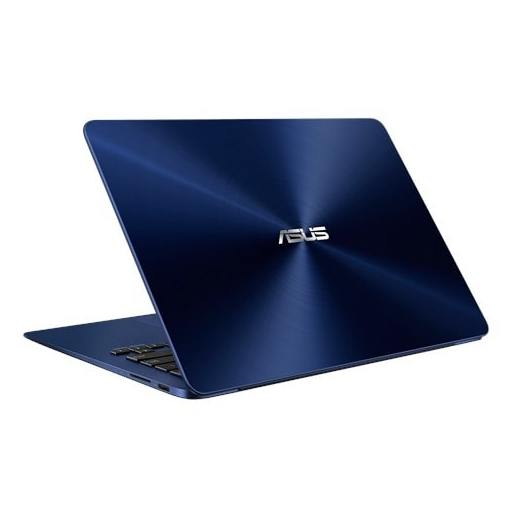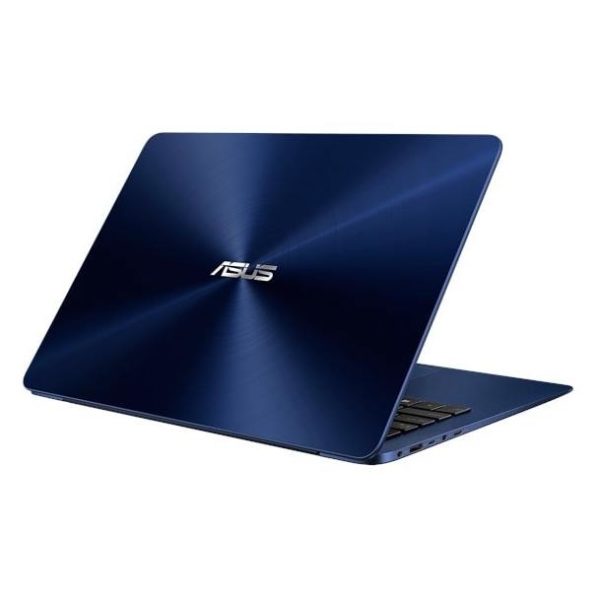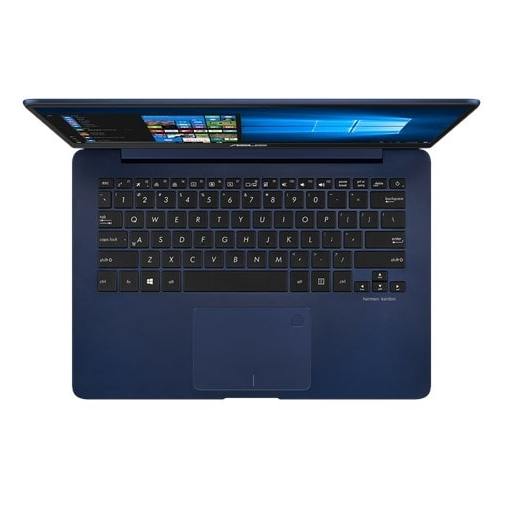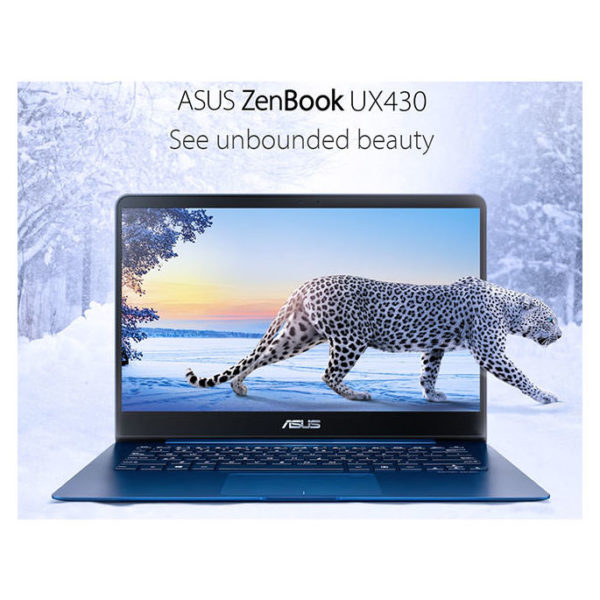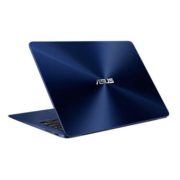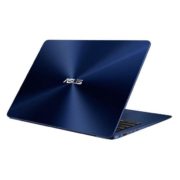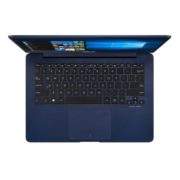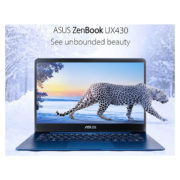 ASUS ZenBook UX430UN See unbounded beauty ZenBook has always been a different kind of ultraportable laptop, but the elegant and sophisticated ZenBook UX430 is a new kind of different: we've crafted a travel-friendly 13-inch ZenBook with a work-friendly 14-inch display! For the first time ever, you don't have to make the difficult choice between portability and screen size — the incredible ZenBook UX430 achieves the impossible by delivering both! Its slim and lightweight design, iconic ZenBook styling, and high-performance components make ZenBook UX430 the take-anywhere powerhouse you won't want to leave behind, wherever you go. Take more with you, in less space!
Lighten your load
ZenBook UX430 is designed to go wherever your busylifestyle takes you — whether it's a hectic round of meetings, a crammedinternational schedule, or a well-deserved vacation. Its sleek and compact13-inch chassis is a briefcase-friendly 15.9mm thick, and its advancedlightweight construction keeps the weight down to just 1.25 kg — so it'll neverbe a burden when you're on the go.
See more, do more!
When it comes to getting things done, everyone agreesthat a bigger display is a better display, because it makes multitasking easierand entertainment more immersive. That's why we've broken all the rules to giveZenBook UX430 the biggest screen possible: The stunning 14-inch Full HDNanoEdge display has an ultra-narrow 7.18mm bezel that allows it to fit into asvelte 13-inch chassis. To maximize your viewing comfort, the NanoEdge displayalso has a matte anti-glare coating that reduces annoying reflections. Theresult is a laptop with an impressive 80% screen-to-body ratio* that minimizessize while helping you maximize productivity — so you can see and do more,while carrying less!
* Calculated using the visible body area.
Viewing perfection
The ZenBook series is renowned for superb displayquality, and ZenBook UX430 is no exception. Its 14-inch anti-glare display hasan ultra-wide 100% sRGB color gamut, which means it can display more-accurateand more-vivid colors than a standard display. It also uses wide-viewtechnology to ensure that contrast and color reproduction are not degraded atviewing angles up to 178° degrees, making it perfect for collaboration andscreen sharing.
Timeless elegance — with a modern twist
Elegance, sophistication and style are the hallmarks ofthe ZenBook series. The exquisite ZenBook UX430 continues that tradition,combining precision craftsmanship and premium materials to give you a laptopthat stands out from the crowd. ZenBook UX430 is available in four gorgeouscolors to match your style — Royal Blue, Rose Gold, Quartz Gray and ShimmerGold — and the aluminum-alloy lid features the iconic ASUS spun-metal finish.The Zen-inspired, concentric-circle design is enhanced with a stunningcrystal-like coating that's created using an advanced technique known asnano-imprinting lithography. This exclusive high-tech glossy coating adds anextra touch of luxury to your ZenBook UX430.
More performance, less waiting
ZenBook UX430 is a 13-inch laptop built for no-compromiseperformance that outshines any rivals. At its heart is up to the latest Intel®Core™ i7 processor, up to 16GB of RAM and powerful NVIDIA® GeForce® MX150graphics. It also features 512GB of SSD storage for super-fast app loads andnear-instant boot times. Whether you're creating big documents, manipulatingphotos, editing videos, or simply taking a gaming break, ZenBook UX430 willnever keep you waiting.
The thinnest-ever ZenBook with discrete graphics
ZenBook UX430 is the thinnest-ever ZenBook to feature adiscrete graphics chip — an achievement that gives you the performance benefitsof up to NVIDIA® GeForce® MX150 graphics for work or entertainment. Whether youneed ultra-smooth video playback, superb multimedia creation capabilities orimpressive gaming performance, ZenBook UX430 is the perfect choice.
All-day battery for non-stop lifestyles
Designed for non-stop, on-the-go lifestyles, ZenBookUX430 offers the freedom of all-day battery life. A special 50Whlithium-polymer battery gives ZenBook UX430 up to 9 hours of autonomy.Lithium-polymer batteries retain most of their original charge capacity evenafter hundreds of charge cycles — up to 3x longer than standard batteries — soyou don't have to worry about deteriorating battery performance.
Every connection you need
ZenBook UX430 is equipped with the new, reversible USBType-C™ (USB-C™) port that offers an any-way-up design to make connectingdevices as easy as possible. It also delivers data transfer speeds that are upto 10x faster than older USB 2.0 connections! Along with the USB-C port,there's a USB 3.1 Gen 1, a Micro HDMI, and an SD card slot — so you can easilyconnect all your current peripherals, displays and projectors with zero hassle.
Mobility without bounds
ZenBook UX430 lets you get connected faster and furtherwith the latest dual-band 802.11ac Wi-Fi. At speeds of 867 Mbps, 802.11ac Wi-Fiis up to 6x faster than 802.11n! Bluetooth® 4.1 lets you connect your favoritedevices with less impact on battery life. ZenBook UX430 gives you the freedomto do whatever you need to do, wherever you want to do it!
No-compromise productivity
ZenBook UX430 is equipped with a full-size backlitkeyboard that features a sturdy single-piece design to deliver a superb typingexperience. It's a masterpiece of ergonomics, with 1.4mm key travel that'soptimized for a comfortable feel. The precision touchpad is cleverly engineeredfor maximum comfort and accuracy, with a glass covering for smooth control. Thetouchpad features palm-rejection technology, and it supports multi-fingergestures and handwriting.
One-touch access with Windows Hello
Accessing your ZenBook UX430 couldn't be easier or moresecure. Thanks to a built-in fingerprint sensor in the touchpad and WindowsHello, there's no need to type in your password every time to log in. Just asingle touch is all it takes!
Cortana
The best Windows 10 experience
ZenBook UX430 sets the standard for the greatest Windows10 experience, and features an array microphone that supports Cortana, thepersonal digital assistant that helps you get things done easily. The arraymicrophone makes voice control more accurate, even in noisy conditions. Cortanacan help keep track of your interests, favorite places, and anything you wantto keep up to date with — to provide truly personalized service.
Sound that will amaze you
To create the next generation of ASUS SonicMaster audiotechnology, the ASUS Golden Ear team worked with renowned home and automotiveaudio experts Harmon Kardon. The results are astonishing. A tailored mix ofsuperior hardware — including smart amplifier technology that delivers loudersound with no distortion — and cleverly designed software ensure that ZenBookUX430 gives you the ultimate audio experience.
Superbly optimized color
ASUS Splendid technology enhances the 14-inch display onZenBook UX430, giving it richer and deeper colors for a stunning visualexperience. By default, ASUS Splendid is configured to show the most accuratecolors possible for the best viewing experience — but for those times that youwant to customize your view, ASUS Splendid offers additional options, includingEye Care, Vivid, Manual or Normal modes. Eye Care mode is a special mode thatreduces the amount of harmful blue light emitted from the screen by up to 30%,protecting your eyes and reducing the chance of tired eyes when viewing inlow-light environments.
Main
Brand
Asus
Color
Blue
General
OS
Windows 10
Laptop Type
Ultrabook
Display
Screen Size
14 Inches
Resolution
FHD (1920 x 1080)
Aspect Ratio
16:9
Technology
Anti-Glare
Touch Screen
No
Processor
Processor
Intel Core i7
Speed
1.8 GHz
Model
8550U
Memory
RAM
8 GB
RAM Type
LPDDR3
Storage
Storage Size
512 GB
Type
SSD
MultiCard Slots
Yes (Sepc: SD, MMC)
Graphics
Graphics Card
NVIDIA
Graphics Card Type
GeForce MX150 (N17S-G1)
Graphics Memory
2 GB
Power & Battery
Battery Type
Li-ion
Battery Capacity
48WHrs
No. of Cell
3 Cells
Power Supply
100~240V AC, 50/60Hz
Power Adapter
65 Watts
Output Power
19V DC, 3.42A, 65W
Audio
Audio Outputs
3.5mm Audio Out
Microphone
Audio-in Combo Jack
Dimensions & Weight
Dimensions
15.9 x 324 x 225 mm
Weight
1.0 to 1.3 kg
Input
Keyboard
Illuminated Chiclet Keyboard
Backlit Keyboard
Yes
Connectivity
WiFi Type
802.11ac
Bluetooth
Bluetooth 4.1 (Dual band)
HDMI
1 x micro HDMI
USB
1 x USB 2.0 | 1 x USB 3.0 | 1 x USB3.1 Type C (Gen 1)
Recommended Accessories
Recommended Accessories
MS Office for Windows/Mac (Special Price for Laptop Customers)
Anti Virus and Internet Security
Windows Ultimate (Special Price for Laptop Customers)
Headphones (Listening Music and Chatting) and Multimedia Speakers
Web Cameras
Wireless / Wired Mouse, USB Internet Dongle
Cary Cases (Sleeves, Messenger and Back Packs)
Pocket Projectors, Portable/Travel Speakers, Adaptors
Laptop Cleaning Kit and Wipes
Surge Protector
Hard Disk Drive and Flash Drives
Ethernet, HDMI, Audio (Aux and Aux to RCA Cables) and USB Cables
Wi-Fi Router
USB Extension, Ethernet Extension and Memory Card Readers
DU/ Etisalat Connections, Recharge and Data Plans